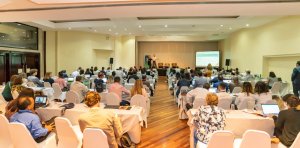 Thursday, 12 May 2022 - 0:00

to

Friday, 13 May 2022 - 23:45 (Europe/Brussels)
Radisson Hotel San Jose, Costa Rica
On May 12 and 13, 2022, the María Aguilar Interurban Biological Corridor (CBIMA), made up of five municipalities of the Greater Metropolitan Area of Costa Rica, hosted the First Regional Engagement Event for Latin America of the INTERLACE Project. The meeting was characterized by being the first major face-to-face event between members of the consortium after the pandemic period and its objective was to stimulate the exchange on the implementation of nature-based solutions; bringing together more than 60 participants from municipalities and organizations from all over Latin America and Europe.
Download the full report to learn all about this event (Spanish).
Presentations:
Laura Palomo Rios, European Commission Project Officer
Nature-Based Solutions in the framework of European Commission 
Sandra Naumann, INTERLACE Project Coordinator-Ecologic Institute
International cooperation to restore and connect urban environments in Latin America and Europe
Grace Yepez, Co-founder Yes Innovation
Nature-Based Solutions. Comprehensive solutions for the challenges of Latin American cities in the 21st century
McKenna Davis, Ecologic Institute
Urban Governance Atlas
Emily Víquez, Unión Nacional de Gobiernos Locales (UNGL)
International Cooperation to Restore and Connect Urban Ecosystems in Latin America and Europe. 
Albert Camps, Municipality of Granollers, España
The environmental and social recovery of the Congost River environment and other projects to enhance the natural heritage in the municipality of Granollers (Spain)
Agustín Gutiérrez Henao, Municipality of Envigado, Colombia
Nature-Based Solutions in the Municipality of Envigado 
Sheika Aragundi, Municipality of Portoviejo, Ecuador
Nature-Based Solutions in the Municipality of Portoviejo