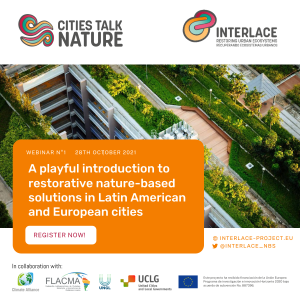 Thursday, 28 October 2021 -

16:00

to

17:30 (Europe/Brussels)

(Europe/Brussels)
The CITIES TALK NATURE webinar series was kicked off with a multifaceted session. After an introduction to the INTERLACE project and a presentation on urban ecological restoration, all attendees participated in an interactive game that was part of a new learning module developed by United Cities and Local Governments (UCLG), together with UNDRR and UN-Habitat. It aims to facilitate exchange and capacity building activities among local and regional governments striving to develop and implement disaster risk reduction and resilience building strategies in alignment with achieving the Sustainable Development Goals (SDGs), fostering climate mitigation and adaptation, and advancing an inclusive ecological transformation.
Following, the two INTERLACE cities Chemnitz (Germany) and Corredor Biológico Interurbano María Aguilar (CBIMA, Costa Rica) shared experiences from their beginnings with ecosystem restoration and rounded up the programme.
Presentations:
Jörn Klein (Climate Alliance): Introduction to CITIES TALK NATURE
Benedict Bueb (Ecologic Institute): What is urban ecosystem restoration? Perspectives from the INTERLACE project
UCLG: Resilience Learning Modules
Max Krombholz (City of Chemnitz): How to get started with Nature-based Solutions: Examples from Chemnitz
Erika R./Calderón J. (CBIMA): Soluciones Basadas en la naturaleza