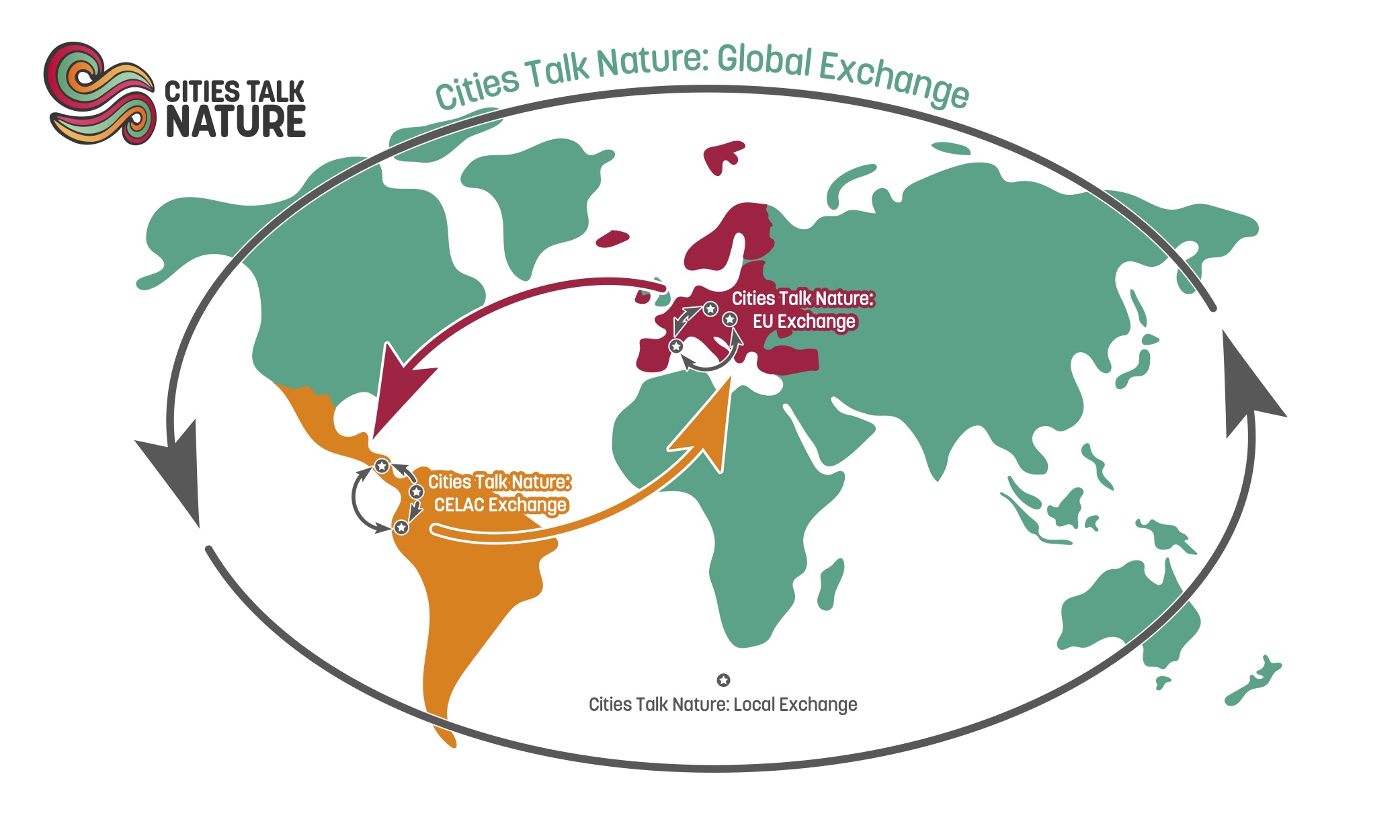 Cities Talk Nature is a community of practice dedicated to restoring degraded ecosystems in municipalities in Latin America, Europe and other parts of the world. Together we explore the multiple advantages of restorative nature-based solutions, such as benefits for the environment, biodiversity, social cohesion and the local economy, thus building resilience in our towns and cities.
Cities Talk Nature is facilitated by a unique cooperation between the Latin American Federation of Cities, Municipalities and Associations of Local Governments (FLACMA) and the National Union of Local Governments (UNGL), as member of FLACMA as well as Climate Alliance and United Cities and Local Governments (UCLG).
Task 4.4 Cities Talk Nature Showcase
(Lead: WWF, contributing partner: CA, UNGL, UCLG/NAN (M6 – M48)
The Cities Talk Nature Showcase (formerly known as the City Network Accelerator Barometer) is being created as an information and assessment instrument depicting the state of cities' engagement in urban ecosystem restoration, using a vidually appealing and accessible format.
A set of indicators have been developed to reflect various aspects of engagement, such as impact of different engagement formats, type and extent of stakeholders, priority themes and geographic distribution. The indicators are being reported on for key physical and virtual engagement activities by the respective organisers using a standardised template developed by WWF, and subsequently fed into project monitoring (WP6).
In parallel, the indicators are being uswed by WWF as a basis for developing a visual online tool (in collaboration with Oppla via WP5), which will comprise an interactive map showing the location of city cases with links to detailed information on each. Once launched, the Cities Talk Nature Showcase will function as a 'living' component of the Innovation Hub web-platform, highlighting the reach of the Cities Talk Nature network and serving as a multiplier tool to attract further participation in INTERLACE.
These features are intended to encourage discussion amidst the global community of practice on urban ecosystem restoration and act as a source of information for cities and city networks looking to improve (digital) engagement, as well as optimise INTERLACE impact.