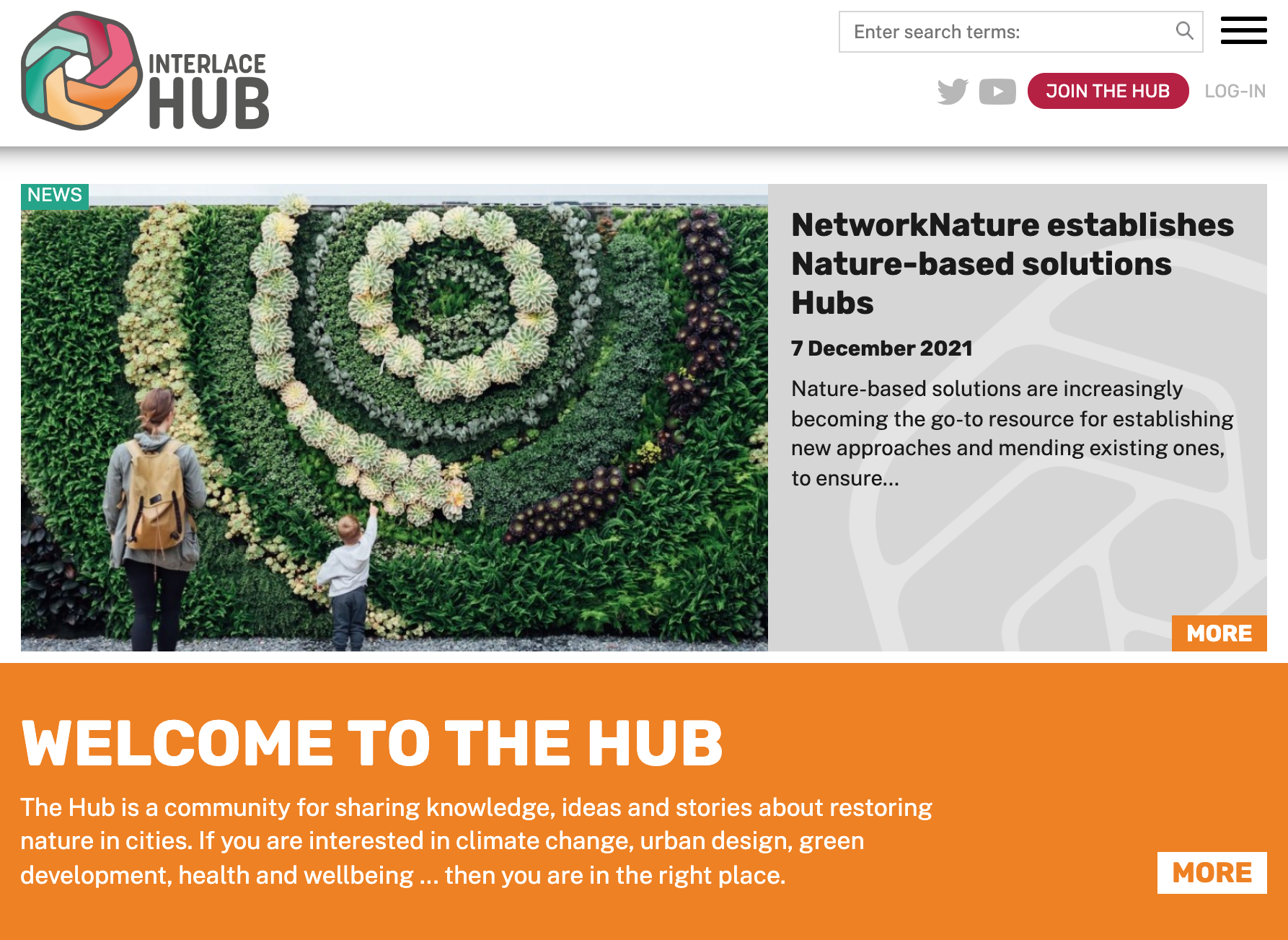 The Innovation Hub web-platform is the main communication channel used by INTERLACE. Its purpose is to share news and information about the project; create a repository of project outputs, resources and case studies; support collaboration with stakeholders; and raise awareness of INTERLACE amongst the nature-based solutions communities in both Europe and Latin America.
The Innovation Hub will be continually developed, updated and expanded throughout the project (and beyond as part of the INTERLACE legacy programme). It is intended to provide an attractive, easy-to-use interface suitable for a wide range of audiences, including the general public and people working in urban ecosystem restoration at all levels - from practitioners and nature-based enterprises, to city authorities and policymakers.
The Hub is currently in its initial stages of development. In time, the following features and functionality will be added alongside any new requirements identified by INTERLACE partners and stakeholders:
INTERLACE products database, providing easy access to the tools and resources created by the project for the purpose of supporting restorative nature-based solutions (e.g. tools, guidance, factsheets, methods, business cases, lessons learnt). 
City NBS Tool for urban ecosystem restoration and rehabilitation, which aims to provide decision-support for the planning, design, implementation, maintenance and monitoring of nature-based solutions.
City Groups sharing the latest news, events and activities with INTERLACE city stakeholders.
Automated content translation between English, Spanish and other languages, enabling stakeholders in different countriesto share knowledge and ideas and new ways.
The Innovation Hub is developed as part of Oppla, the EU Repository of Nature-based Solutions, and our ambition is for the Hub to become the equivalent 'Repository of Nature-based Solutions' for the CELAC region, with support from our Latin American partners.
As next steps, we want to:
Review and test the prototype Hub with INTERLACE partners and stakeholders to identify priorities for improvement
Work with the City Focal Points to begin developing and adding content to the City Group sections