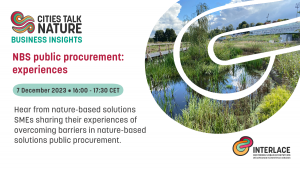 Thursday, 7 December 2023 -

16:00

to

17:30 (Europe/Brussels)

(Europe/Brussels)
Join us on 7 December 2023, as part of the CITIES TALK NATURE: Business Insights series, as we hear from small and medium sized nature-based solution enterprises who have experience with nature-based solutions public procurement.
In this webinar, we will answer the following questions:
How can public procurement criteria and processes disadvantage NBS in the face of "grey" solutions?
How have NBS SME's overcome public procurement barriers to NBS in their "successful projects?
What public procurement rules would 'level the playing field' between NBS and "grey" solutions?
Sharing their experiences and expert advice, will be:
Nicolas Salmon, Co-founder and CEO - YES Innovation, an NBS enterprise from Quito (Ecuador) specialised in planning and design green infrastructures in cities.
Marcin Gajda, Graduate of the Horticultural Technical School in Piotrkowice Małe and of the Faculty of Horticulture at the Agricultural Academy in Kraków. Founder of the companies GAJDA Architektura Krajobrazu and AKG Architektura Krajobrazu. Founder of the Association of Landscape Architecture.
David Barton - Senior Research Scientist, Economics of Ecosystem Services, Norwegian Institute for Nature Research (NINA)
This webinar is part of the CITIES TALK NATURE: Business Insights series of webinars. Each webinar in the series will feature successful small and medium enterprises (SMEs) from Europe and Latin America based outside capital cities. Businesses will be sharing their successful projects and discussing barriers and enablers to their business and more generally to the NBS sector in their city and country.