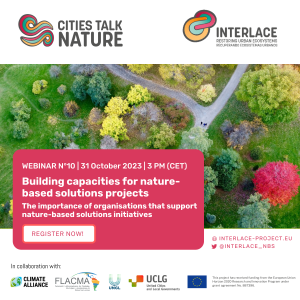 English / Spanish interpretation available
Register here
Non-governmental organisations such as think tanks, foundations, and research institutions are strategic stakeholders to build capacities for nature-based solutions (NBS) projects. Political will of local authorities and officials need to be supported by professional knowledge for the institutionalisation of NBS programmes.
In the last two decades, new organisations have emerged to fulfil this role and have accumulated valuable experience. However, their work is not always widely known and sufficiently harvested for those who need it. This webinar aims to analyse what are the organisations' strategies to promote NBS projects, how they foster networks to amplify the impact of their work, and what needs to be done to make successful programs to last.
Speakers:
Jeremías Diez-Canedo Jaime and Julia Gómez Candela, Diez Candelas, Mexico
Tomasz Bergier, Sendzimir Foundation, Poland
Discussants: Representatives from cities that are involved in NBS projects
---
By registering for the webinar, you confirm that you have read and agree to Cities Talk Nature's DATA PROTECTION and CONSENT FORM.