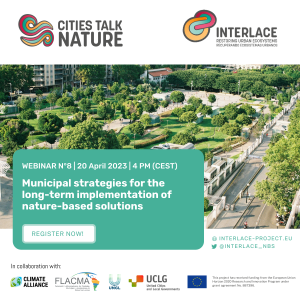 Municipal governments change and so do their priorities and budgets dedicated to certain topics and activities. In this environment, how can municipalities ensure that a topic and its related municipal activities are implemented and continuously developed over a long period of time?
Thinking about nature-based solutions, they need to be implemented but also maintained and financed and often it is important to adapt the nature-based solution to changing circumstances, such as climate change, change in population structure etc. Or a long-term strategy is important to ensure that a successful pilot comes to large scale implementation.
In this webinar, the European municipality of Granollers (Spain) and the Latin American municipality of Cuenca (Ecuador) shared with us their strategies for long-term implementation of nature-based solutions. We heard from them things that did not work out as well as tips for other cities to replicate.
Presentations & Speakers: