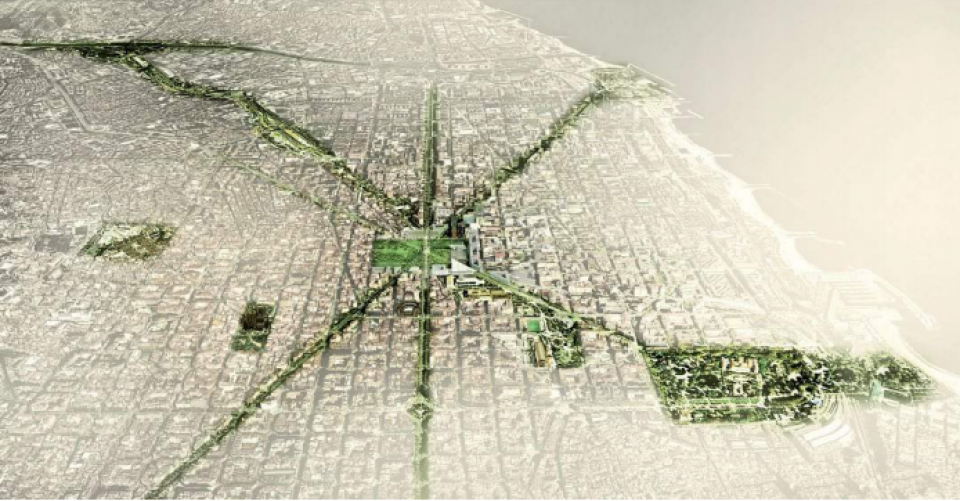 Area characterisation:
Barcelona is one of the most densely populated European cities with about 1.62 million people living in an area of just over 100 km2. The particularly favourable geographical location allows for a variety of natural phenomena to converge: two river mouths with a river delta each; the coastline, with sandy beaches and Montjuïc hill; the reliefs of the plain; and Collserola, a mountain range with an ancient landscape of highly modified forests.
Objective:
The objective of the catalogue of actions set out in the Green Infrastructure and Biodiversity Plan is to implement a strategy for improving existing green heritage and for preserving and enhancing Barcelona's biodiversity to provide the inhabitants of Barcelona with many ecosystem services.
Actions:
The actions of this project are, first of all, to preserve the city's natural heritage with protocols and corrective measures for the already existed biodiversity and then have be to ensure the connectivity and strike a balance in distribution by planning green infrastructure. The city and its green spaces have to been designed taking into account environmental services and integrating criteria to enhance biodiversity. The creation of new spaces for nature and managing parks, garden and other green spaces to increase and foster the biodiversity. The value cultural heritage would be preserved and enhanced and the knowledge for the management and conservation of green infrastructure and biodiversity will be improved. The green spaces will be fostered as places for health and enjoyment. The last thing is to stretch the local leadership and commit them to conserve the green infrastructure and biodiversity.
Potential impacts/benefits:
Enhancing sustainable urbanisation

Restoring ecosystems and their functions

Developing climate change mitigation

Developing climate change adaptation; improving risk management and resilience

Improve air quality.

Increase well-being.

Provision of health benefits.

Increase amount of green open spaces for residents.

Increase accessibility to green open spaces.

Changing image of the urban environment.

Increase Biodiversity.

Increase quality and quantity of green and blue infrastructures.

Increase achievements of biodiversity targets.

Increased cultural richness and biodiversity

Carbon sequestration and storage.

More energy efficient buildings.

Reducing temperature at meso or micro scale.
NBS benefits
Developing climate change adaptation; improving risk management and resilience
Reducing temperature at meso or micro scale
Developing climate change mitigation
Carbon sequestration and storage
More energy efficient buildings
Restoring ecosystems and their functions
Increase achievements of biodiversity targets
Increase Biodiversity
Increase quality and quantity of green and blue infrastructures
Increased cultural richness and biodiversity
Enhancing sustainable urbanisation
Changing image of the urban environment
Improve air quality
Increase accessibility to green open spaces
Increase amount of green open spaces for residents
Increase well-being
Provision of health benefits