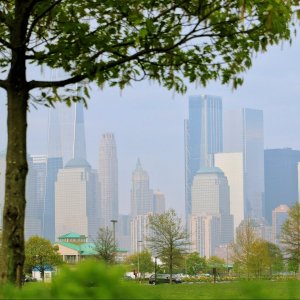 AIPH, the International Association of Horticultural Producers and the world's champion for the power of plants proudly presents the AIPH World Green City Awards, which recently opened for entries for the 2022 inaugural edition.

The leading role of city authorities is recognised for promoting and supporting greater inclusion of plants and nature in urban environments. The AIPH World Green City Awards 2022 are designed to champion ambitious nature-orientated approaches to city design and operation. Specifically, they seek to recognise public initiatives relying on a greater use of plants and nature to create better city environments – helping to fulfil local aspirations for improved economic, social and environmental resilience. 
The awards celebrate innovation, achievement, and commitment to the globally recognised imperative to embrace nature-based solutions that harvest the power of plants and associated ecosystems services to help address the major challenges facing cities today – or tomorrow. AIPH initiated these awards to bring wide recognition to the value of plants in providing solutions for common city problems and to create an enabling environment to shape and nurture a strategic shift in city governance and planning. 
The AIPH World Green City Awards are unique in that they are the first global awards where plants and nature are the core focus. The 2022 edition of the AIPH World Green City Awards will be offered in six categories, with a final selection made from a shortlist of the best three in each category,  and presenting three category winners, and  one overall AIPH World Green City winner. The online portal is now open to receive entries by cities right up to the submission deadline of 14th March 2022.
There are many benefits in entering the AIPH World Green City Awards. It is the first international competition that cities enter to:
Gain recognition for the greening they have done and the benefits of this.
Promote their city at an international level.
Inspire a global movement for greener cities.
Demonstrate that their city is highly desirable to live and work in.
Showcase how nature can improve the health of citizens, increase job opportunities, and stimulate economic development and stronger greening regulations.
Demonstrate how ambitious local actions contribute to achieving global agendas
By entering, cities stand a chance to:
Have their initiatives featured on the AIPH website and integrated to the case study library associated with the AIPH Green City Guidelines. All shortlisted entries will be featured.
Win an award certificate and a trophy. Winners can nominate key partners and key staff so that additional award certificates can be prepared in their name.
Gain global recognition and profiling opportunities as winners will be promoted via AIPH and the World Green City Awards partners' and sponsors' media channels.
Have their city's work displayed to a significant global audience in the AIPH pavilion of an International Horticultural Expo.
Receive up to 4 complimentary tickets to the gala event of the Awards ceremony for winners.
Through the AIPH World Green City Awards, AIPH aims to ignite a global movement of cities who are demonstrating the principles of "Living Green" in action and inspiring other cities to raise their ambition through the development of a rich case study library which celebrates best practice.
Don't miss this opportunity to demonstrate your city's commitment to "living green" and showcase your ambitious nature-based solutions.
Enter the AIPH World Green City Awards today! 
For any queries, questions, feedback, or to get in touch with the AIPH team, mail timothy.blatch@aiph.org
To stay in the loop, follow AIPH on: LinkedIn @AIPH; Facebook: @theAIPH; Twitter @AIPHglobal
Watch the video below for an introduction to the awards!