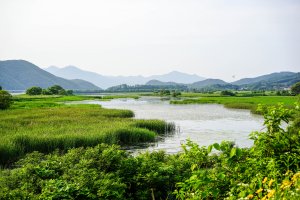 "By promoting the improvement of ecological status, biodiversity, and ecosystem connectivity through the development and implementation of innovative Win-Win Nature Based Solutions, DANUBE4all aims to enhance the free-flowing status of rivers and floodplains, reduce flood and drought risks, and improve sediment and biota continuity."
The EU Horizon project DANUBE4all will support five Associated Regions in preparing roadmaps, planning documents, and local initiatives designed to restore local freshwater ecosystems. This will be achieved via workshops and peer to peer learning opportunities. Furthermore, all tools and restoration measures, including the Danube Basin Restoration Action Plan, will be tied to the needs and interests of the Associated Regions. DANUBE4all is a project from the Danube Lighthouse along with the EcoDalli Coordination and Support Action. Both initiatives operate in the Danube region and further research and innovation for ecosystem restoration.
Curious who these lucky Associated Regions are? So is DANUBE4all! Eligible regions can apply by 31 May, 2023 to join the project as an Associated Region. 
Selected Associated Regions will benefit from DANUBE4all expertise, knowledge, and technical assistance on the development of a local plan for freshwater ecosystem restoration. In return participating regions commit to contributing to three co-creation workshops in their regions 2024-2026. These workshops will play an integral role in the development of a local roadmap for restoration, which regions will finalise by December 2027. 
"We believe that by working together, we can achieve our shared goal of restoring freshwater ecosystems and promoting sustainability across Europe." 
Be a part of the solution by applying to join DANUBE4all as an Associated Region today!