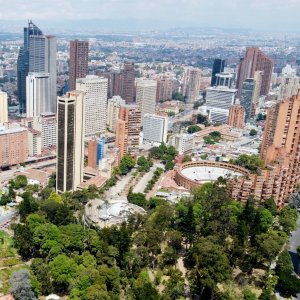 What do Belo Horizonte, Bogotá and Mexico City have in common, apart from being vibrant
metropolises to live in?
They have all been selected in the first call of the CLEARING HOUSE knowledge
exchange mechanism, meant to promote capacity development and knowledge exchange on urban forests as nature-based solutions (UF-NBS). The exchange mechanism works through peer-to-peer exchange and provides scientific support for UF-NBS related challenges.
Bogotá has been selected for the Task Force exchange mechanism. The Task Force will offer the opportunity to the city to receive scientific support from the CLEARING HOUSE experts partners regarding some of its UF-NBS challenges. This support will eventually include a review of Bogotá challenges in regards to further implementation of UF-NBS solutions, research for gaining more in-depth insight on the challenges faced by Bogotá, and an action plan for implementing the suggested solutions.
Belo Horizonte and Mexico City will be paired in the City Tandem exchange mechanism. The global objective of the City Tandem is to promote capacity development and exchange of knowledge and practices on urban forests as nature-based solutions.
Cities were selected based on showcasing of their policies, programmes and projects aimed to enhance implementation of UF-NBS ecosystems and the cities' collaboration with diverse stakeholders on the subject. The candidate cities were questioned further regarding their existing tree-based green infrastructure, and their main social and climate challenges addressed through implementation of UF-NBS.
The three cities will meet to further define the focus of the upcoming exchanges. All cities have declared to be particularly interested in topics such as heat-wave mitigation, air quality improvement, green infrastructures and social-cultural exchanges. Soon more information will be available regarding the outcomes of these knowledge exchange mechanism activities, as well as a second call, focused on capacity development and exchange of knowledge and practices between European and Chinese cities.
Read more about the exchange here!
Learn more about urban forests as nature-based solutions at CLEARING HOUSE.