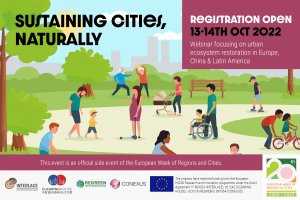 Thursday, 13 October 2022 - 0:00

to

Friday, 14 October 2022 - 23:45 (Europe/Brussels)
Thursday, 13 October 14-18 CEST; Friday, 14 October, 9-13 CEST
Poorly planned urbanisation can lead to societal challenges as social deprivation, climate change, deteriorating health and increasing pressure on urban nature. Urban ecosystem restoration can contribute to lessen these challenges, e.g. through implementing nature-based solutions (NBS). This online webinar illustrates how Horizon 2020 projects are supporting international cooperation in knowledge creation and knowledge exchange between local authorities and researchers to promote urban ecosystem restoration in Europe, China and Latin America.
This webinar is jointly organised by the projects: INTERLACE, CONEXUS, REGREEN and CLEARING HOUSE as an official side-event of the The European Week of Regions and Cities 2022.
This webinar brings together cities, regions and local authorities, city network representatives, policy makers, researcher, civil society and experts on nature-based solutions and urban ecosystem restoration from Europe, China and Latin America.
In line with the UN Decade on Ecosystem Restoration, the proposed EU Nature Restoration Law and the NetworkNature semester on nature-based solutions standards and quality, the webinar will focus on the following six topics: economics, governance, social aspects, ecological quality, environmental quality and education.
Attending the webinar is free of charge. The webinar will be held in English with simultaneous translation (Spanish and Portuguese on 13 October, and Chinese on 14 October).