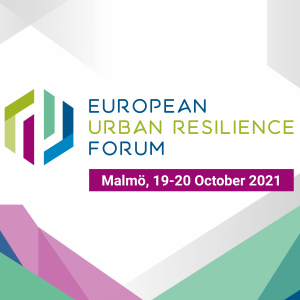 The European Urban Resilience Forum is a hallmark event hosted by ICLEI Europe and European Environmental Agency annually to gather a wide variety of stakeholders to collaborate on urban resilience. NetworkNature was a co-organiser for the hybrid-2021 edition taking place in Malmö and online.
The NetworkNature session held on 19th October saw city representatives from both Malmö and Lisbon discuss together with panelists from working on implementation and financial aspects of nature-based solutions the crucial topic of fostering ecosystems and climate resilience, in order to future-proof cities  and address the climate crisis.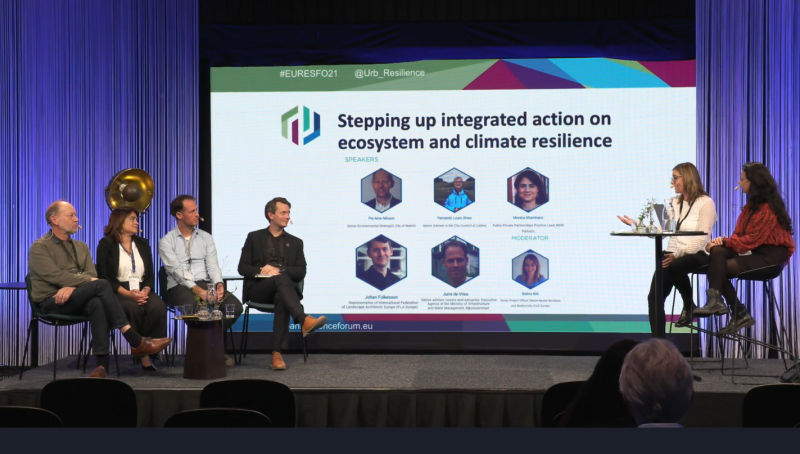 Per-Arne Nilsson, Senior Environmental Strategist, City of Malmö started the session by recounting Malmö's shift from a prosperous city with a booming shipping industry, with people flocking out of the city in the 'green wave' to have more access to nature. Once the industry dwindled as well, the city had to switch its approach. For years now Malmö has been actively been introducing green spaces and sustainable districts to attract citizens, with nature-based solutions at the forefront. He also reminded participants that sometimes infrastructure can provide support ecosystem restoration in suprising ways, as is with the case of the Öresund bridge crossing the Baltic Sea strait between Malmö and Copenhagen - the longets combined road- and rail bridge in Europe. The bridge ended up creating a habitat for blue mussels, that were scarce in the waters before the bridge was introduced.
Fernando Louro Alves, Senior Adviser in the City Council of Lisbon recounted how improving nature in cities needs to take into consideration a wide variety of factors. In Lisbon's case, as the city is small, it needs to work with other cities to truly protect the local ecosystem and improve environmental quality. The city currently has many urban greening plans underway and aim to construct a natural ecosystem in and around the city. He believes that citizen awareness and engagement, coupled with political action is crucial in transforming cities. Policymakers should not discount the power and interest of citizens.
Johan Folkesson, Representative of International Federation of Landscape Architects Europe (IFLA Europe), reiterated the role of citizens, saying that with the pandemic it has become clear that citizens accept and desire nature in cities. However he has concerns over whether this acceptance extends solely to constructed nature - acceptable in small doses, rather than wild nature and wider ecosystems. He believes there needs to be a more holistic view in the implementation of nature-based solutions and ensure that they are accepted as part of a wider scheme – the ecosystem – and not merely as controlled interventions.
Monica Altamirano, Public-Private Partnerships Practice Lead, NOW Partners, brought financing of nature-based solutions to the fore. It is difficult to capture the compounded benefits of nature-based solutions and thus argue for financing on this basis. A multisector approach to investment planning should be incorporated to channel more funding for nature-based solutions. "There is no way we can make the argument that we need finance if you cannot place your nature-based solutions project to this bigger scale." Altamiro reminded those working in the field.  
Jurre de Vries, Senior advisor coasts and estuaries, Executive Agency of the Ministry of Infrastructure and Water Management, Rijkswaterstaat, agreed that it is crucial to get people from different fields and approaches to collaborate to ensure the success of nature-based solutions to build climate resilience and protect the ecosystem.
Bettina Wilk, NetworkNature Coordinator and Senior Officer Sustainable Resources and Climate Resilience at ICLEI Europe, called for a multifaceted approach in the planning of nature-based solutions. The strength of nature-based solutions is that they address many things, from ecosystem resilience, biodiversity, climate change mitigation, all of with have a direct impact on human health. There is a need to design nature-based solutions as a wider strategic network of green- and blue infrastructure – using a system based approach that can be transferred to cities as a whole.
How to engage and involve stakeholders? Folkesson believes policy considerations should be actively channelled from the international level to a local one to ensure all stakeholders are discussing terms on an equal basis.  Altamiro reminded that it is important to remember that participation can be costly to stakeholders, especially in developing countries and to avoid stakeholder fatigue, when they are engaged in a myriad of nature-based solutions interventions. An integrated approach is needed, where instead of introducing one solution at a time addressing a single aspect, there needs to be a wider scheme of bringing nature-based solutions in. De Vries highlighted that perhaps one avenue would be to bring locals into the nature-based solutions projects from the get-go, instead of particular interventions within them.
There needs to be a consideration in the implementation of nature-based solutions to address the needs of local communities, for them to be multifunctional, embedded in wider sustainability frameworks and to incorporate the inherent value of nature in the schemes.