As the Director of Conservation and Community Development with Solimar International, I am currently leading research on a white paper publication series showcasing how sustainable tourism businesses are responding to the climate and biodiversity crises by regenerating destinations through investment and financing Nature-based solutions (NbS). Tourism, the second fastest growing industry in the world in 2019, is estimated to be responsible for 8% of global greenhouse gas emissions. However, tourism is also a global industry with immense place-based impact and potential to positively regenerate destinations, bringing people together to serve a common purpose at the heart of tourism itself: people and nature.
With the support of international collaborating organizations such as Regenerative Travel, The Long Run, and the University of Edinburgh, and my co-author O'Shannon Burns, we published the first in the series last month on World Environment Day titled, "Climate Action through Regeneration: Unlocking the Power of Communities and Nature through Tourism" This report surveyed 30 tourism operators globally using the IUCN NbS Global Standard to assess how NbS are enabling destinations to take proactive climate action. The paper outlined 5 Principles for Effective Nature-based Solutions in the Tourism Sector (see below) with practical guidelines, action steps, and case studies highlighting action taken by industry leaders. With over 17 affiliate partners joining to amplify the important message behind the white paper, the research has been well-received by an industry that to date has little practical guidance for increasing investment in NbS at scale.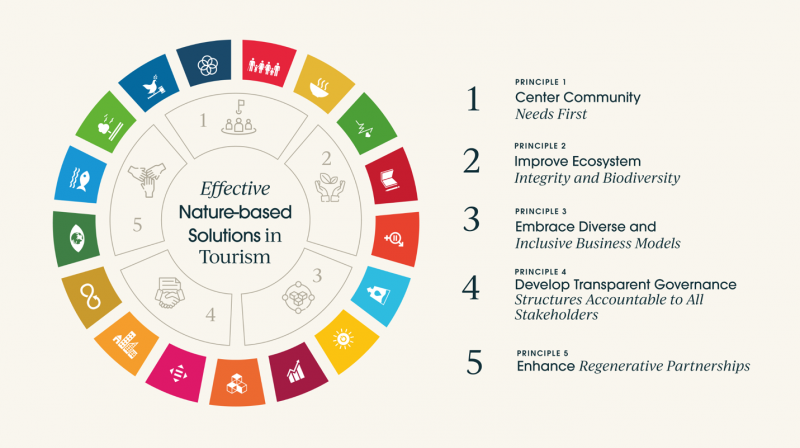 We have seen confusion and misuse around the term "Nature-based Solutions" (NbS)— defined as actions that protect, sustainably manage, and restore nature while simultaneously addressing societal challenges—over the past few years. In some cases NbS have been grossly misused as carbon offsets, with grave consequences for local communities, from biofuel production triggering deforestation to tropical rainforests being cleared for carbon farms (Bettini, Nash and Gioli, 2017). NbS, however, are distinguished from Natural Climate Solutions— actions to conserve, restore, and modify natural and modified ecosystems to increase carbon storage or avoid greenhouse gas (GHG) emissions—by their focus on addressing societal challenges first and foremost, enabling more effective deliberation of tradeoffs between human and ecological wellbeing. In this paper we argue that NbS must do more by embracing a regenerative approach that sees tourism as a wider part of a living system—where humans are not seen as separate from and doing thing to nature, but rather as an intrinsic part of the natural world.
The report demonstrates how tourism businesses are already making an impact in this space, using NbS to respond to societal challenges first and foremost—with carbon sequestration just an added benefit. Six Senses Laamu Atoll, as one example featured in the research, was one of the first resorts in the Maldives to commit to protecting their seagrass beds, ecosystems that are critically important for supporting fisheries, biodiversity, livelihoods, and coastal protection (and yes, they store carbon too!). They have since seen these ecosystems flourish, engaging guests in weekly snorkel tours to float above hidden seahorses and green sea turtles munching on the meadows, while successfully getting other resorts across the Maldives to commit to halting seagrass destruction. The business is engaging with all 16 communities across Laamu Atoll to bring their guests outside of a traditionally closed-off resort environment to engage with communities and support mangrove protection efforts. I had the great privilege of visiting Six Senses while on assignment with our USAID Climate Adaptation Project in the Maldives and saw first-hand the impact their efforts were having. Through a coalition of NGO partners, Six Senses is truly embodying the principles outlined in this report by centering community needs, improving ecosystem integrity, and enhancing regenerative partnerships.
Following the success of the first white paper, we have identified an industry need to elucidate practical guidelines for both monitoring and financing of Nature-based Solutions interventions. The United Nations Environment Programme has identified that investment in NbS must triple by 2030, which represents US$8.1 trillion worth of total investment, or US$536 billion in funding each year. This will require an increase in private sector investment in NbS, from 14% in 2020 to 40% by 2030. The tourism industry—with both place-based and global impact—has an enormous opportunity to respond to this challenge and fill the finance gap needed to respond to both the causes and consequences of climate change. Key to this will be helping tourism businesses monitor their NbS interventions beyond financial metrics—understanding how investment in nature contributes to human well-being, cultural and social regeneration, ecosystem restoration, climate adaptation, and recreation. 
Over the coming months, I will be working with our industry partners to lead research into a second white paper titled "Destination Regeneration: Sustainable Tourism's Role in Financing and Scaling Nature-based Solutions." It will focus on community-based businesses and social enterprises, particularly focusing on small island developing states most vulnerable to climate impact, to document how sustainable tourism can be a catalyst for increasing private sector investment and finance in NbS by unlocking an understanding of pathways for businesses to invest in nature and monitor economic, environmental, and socio-cultural outcomes as a result. 
We are currently distributing a survey to potential businesses interested in being featured in upcoming publications. If you are interested, get in touch by filling out this survey today: https://tinyurl.com/enterprise-nbs-survey