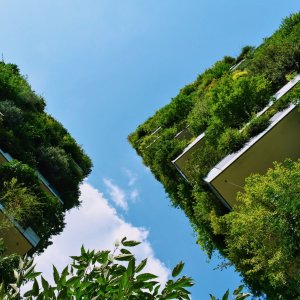 In the aftermath of a society altered by COVID-19, cities have a unique opportunity to "build back better" and harness the power that Nature-based Solutions have to offer.
A report, "Smart, Sustainable and Resilient cities: the Power of Nature-based Solutions''  produced by UNEP together with the Italian Presidency of the G20 summit, explains how cities can better plan and design with nature in mind. The report serves to inform policy makers and stakeholders so that they can create initiatives and policies which not only protect and conserve our ecosystem services, but also provide potential answers to current societal and environmental challenges.
Smart and sustainable cities benefit greatly with NbS implementation. Four main potential benefits of NbS solutions include: resilience and avoided losses, economic benefits (such as reduced costs, reduced climate risk to assets, access to green finance, reduced risk from value chain), social and environmental benefits, and value for money
Nature-based solutions (NbS) deliver important ecosystem services to urban residents. One important aspect of NbS is solutions which improve biodiversity, which is key to maintaining functional ecosystems. In an Italian case study, a 2014 project is outlined in Milan where architect Stefano Boeri's created a Vertical Forest, consisting of two residential blocks. The construction has 800 trees built in 2015,000 plants and 4,500 shrubs, providing an oasis of nature and attracting more than 20 bird species.
Interest is building in NbS and the moment must be seized to capture this momentum. In order to do this, the report outlines guiding principles for the establishment of multi-level governance which can coordinate coherent policies to increase impact and acquire private investment. The report touches upon 4 main barriers to the implementation of NbS at the governmental and municipal level, namely barriers in: perception, policy, capacity, and finances.
Moving forward, researchers are conducting ongoing cost benefit analysis for potential business models in order to assess their potential for revenue generation. These business models aim to support the co-creation of viable business models and policies to mobilise private sector partners. The G20 will serve as an important agent in mobilising and co-ordinating these goals in the public and private sector.
To learn more about smart cities, ecosystem services in the COVID-19 era and NBS multi-governance, click here.