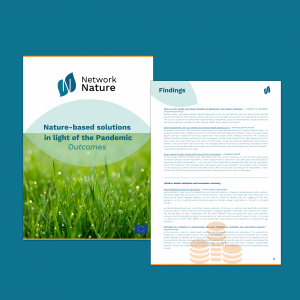 The first NetworkNature semester ´Nature-based solutions in light of the pandemic' ran from February to July 2021. During the semester theme NetworkNature gathered knowledge and information from fellow EU-funded projects, experts in the field and analysed scientific studies and reports linking nature-based solutions with health and well-being.
The findings indicate clear linkages between the use of nature-based solutions, such as parks, forests and gardens in the urban gardens and well-being. Even just the vicinity or a view of greenery can result in better health. Further nature-based solutions can help mitigate the spread of food- and waterborne diseases and zoonoses, by bolstering biodiversity – thus contributing to lessening the risk of future pandemics. During the COVID-19 pandemic many studies and surveys found that citizens were increasingly seeking and appreciating urban green spaces.
The benefits of nature-based solutions are clear, and when designing them in consultation with stakeholders, they can help create sustainable and livable habitats for humans. Read the semester Outcomes Brief to learn more about the findings and explore our next semester theme on ecosystem restoration here.