The restoration of degraded environments offers beneficial impacts to alleviate stress, improve mental health, to mitigate pollution and provide spaces for contemplation, socialization and physical activity. The COVID-19 pandemic has further emphasized the importance of nature for collective well-being, creating momentum to build back better and strengthening the role of Nature-based solutions (Nbs) in addressing multiple challenges. Network Nature  hosted a virtual European Green Week partner event on May 31st 2021, titled "Joining forces for health and nature recovery".
During the session, the speakers presented their perspectives on the value of nature and restoration of degraded environments in offering beneficial impacts for health and well-being, to improve mental health, to mitigate pollution and climate change, provide opportunities for socio-economic recovery, and discussed how the Nature-based Solutions Community in Europe can contribute to these efforts.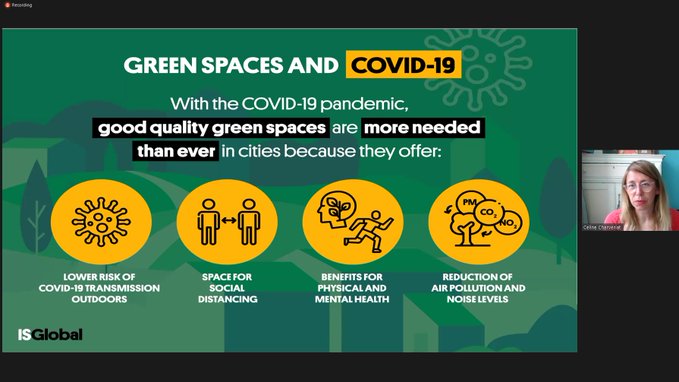 Photo: Celine Charveriat presents on the correlation between nature and the pandemic
Celine Cherveriat, Executive Director at Institute for European Environmental Policy, introduced the immense benefits provided by nature to people and especially the links between mental health and environmental conditions. The COVID-19 pandemic has posed even further pressure on mental health and has emphasized the link between the resilience of people and access to green spaces. Nevertheless, "only a small portion funding is dedicate to nature as part of economic recovery plans". Celine Cherveriat stressed the need to close the funding gap for the implementation of the EU Biodiversity Strategy, to better integrate mental health in the European policies and strategies, such as the EU Green Deal, and called for a dedicated environmental and mental health recovery strategy at EU level.
Liisa Tyrväinen, Research Professor at Natural Resources Institute Finland (Luke), shed light on studies and scientific evidence showing the increased appreciation and benefits of urban nature. She stated that "green areas and forest have bolstered health and well-being during pandemic times". For instance, close to 50% of respondents in a Finnish study stated that appreciation of nature has increased, and 40% mentioned the use of nature for stress reduction and mental support. Such evidence leads to questions on how to plan and design urban areas. Planning is one of the key tools for the integration of nature in cities stressing the need for multi-purpose urban green space planning and to find synergies between health and other benefits in urban areas.
Shirley Gleeson, Director & Founder Ecowellness Consulting, Nádúr Centre for Integrative Forest Therapy, explored the integration of nature-based solutions in supporting health systems. She presented some lessons learnt from the COVID-19 sanitary crisis, which has led to an increase by 50% in depression and anxiety among medical workers. Evidence on the beneficial impacts of nature on health is leading to an increase in green prescribing, especially in the UK, Australia and New Zealand. She stressed the need to create a supportive environment for health – e.g. therapeutic spaces around care homes and hospitals, as well as integrating nature in schools – and to ensure health professionals are trained with competencies on how to integrate nature in an ethical fashion in day to day activities. In order to achieve such integration effectively, health and nature need to be mainstreamed into economic policies as well as into new pathways of learning.
Tadgh Macintyre, Assistant Professor of Environmental Psychology, Maynooth University, highlighted the importance of resilience. Studies on post-traumatic resilient responses – e.g. New York in 2001 -have demonstrated an increased demand for green spaces and have stressed the need to ensure equal access to them, contributing to the evidence on the links between biodiversity and mental health. Overall, people's motivations to go to green spaces have changed over the years, with social interaction and psychological recovery currently more prominent compared to physical exercise. Citizens' engagement in Nature-based solutions projects is also crucial to help them reconnect with nature and ensure cities put nature at the heart of citizens.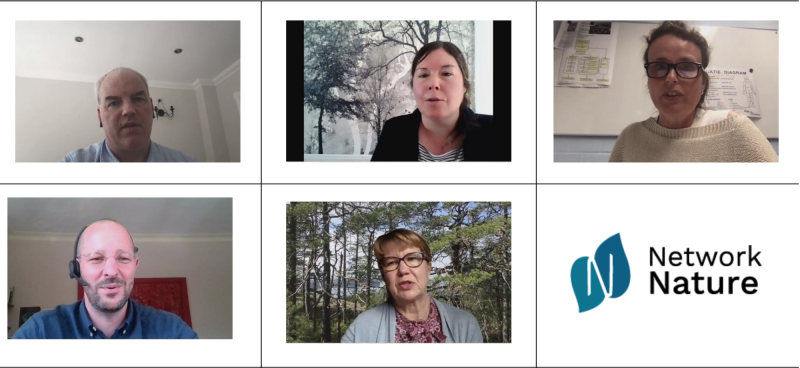 Photo: Speakers clockwise from top left: Tadgh Macintyre,Shirley Gleeson, Sabine Pinedo, Ben Caspar, Liisa Tyrväinen
Ben Caspar, Policy Officer at the European Commission's Directorate General Environment, emphasized that "we need to raise the profile of biodiversity and nature, as technical solutions will not solve everything and nature-based solutions are the most logical and best solutions with the most co-benefits". In particular, he highlighted the importance of safeguarding biodiversity for climate change mitigation, adaptation, human health (both mental and physical), and for tackling pollution. He concluded that now more than ever the values of nature and biodiversity are well recognized, with the EU Green Deal putting climate change and biodiversity at the top. However, he stressed the need to ensure real commitments and prompt delivery of targets.
Sabine Pinedo, Internist specialized in vascular medicine and president of the council of the Nature for Health Foundation, presented her work to make people aware of the benefits of nature to health, including awareness raising in a clinic – e.g. on the correlation between a walk in the park/forest and blood pressure. However, she mentioned that this pillar of integrating nature is still missing in their treatments and activities linked to nature are hardly ever prescribed. She advocated for more funding to be dedicated to larger-scale research on the links between nature and health. Further, what is needed to ensure that nature becomes part of health treatments is its protection and preservation as the main source of human health.
Matthias Braubach, Technical Officer of Urban Health Equity at the World Health Organisation European Centre for Environment and Health, highlighted the need to incorporate both health and nature in all recovery policies. He stated that nature-based solutions are essential to achieve a sustainable lifestyle and that "nature does not need us, but we need nature, which is why nature-based solutions are a strong element for achieving a green recovery". In particular, nature-based solutions have a strong role to play to protect and preserve nature as the source of human health, to invest in essential services in healthcare facilities, to build healthy and livable cities, and to promote sustainable energy transitions and food systems.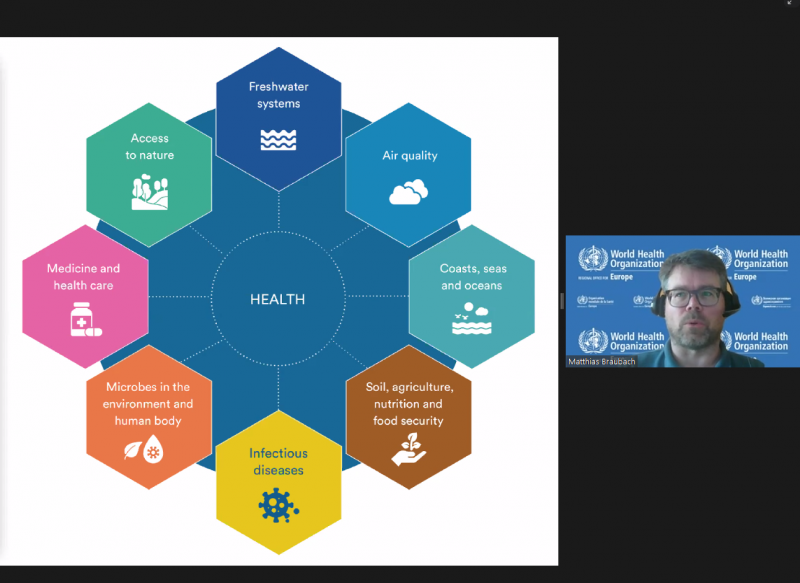 Photo: Matthias Braubach presents on correlation between nature and health
With a multitude of actors and increased focus on the field of NbS, and in a time where we are shifting gears as the pandemic lessens its grip, now is the time to increase collaboration, research and funding to ensure we truly reach a green recovery with solutions that keep nature in mind. The recording of the event is available here. Find the session's presentations from Celine Charveriat here and Matthias Braubach here.