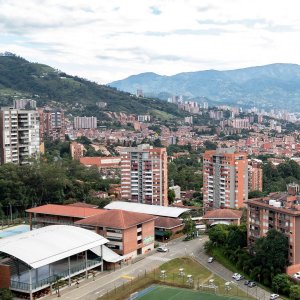 INTERLACE is a new four-year project supporting actions to restore, rehabilitate and (re)connect urban ecosystems. 
A total of six cities across Europe and Latin America are participating in INTERLACE: Granollers (Spain), Envigado (Colombia), Portoviejo (Ecuador), Chemnitz (Germany), Metropolia Krakowska (Poland) and Corredor Biológico Interurbano Río María Aguilar-San José (Costa Rica).
The European Commission has provided €5 million funding to help these cities collaborate in using using nature-based solutions to help solve challenges in relation to climate change, public health and wellbeing, economic development, wildlife conservation and more.
'Nature-Places-People'
Ecological systems as part of complex, integrated systems in which humans and nature are intrinsically linked. INTERLACE embraces this complexity through its 'Nature-Places-People' concept. This approach emphasises not only ecosystem connectivity, but a much broader connectivity of natural and social processes and places.
Guided by this central concept, the INTERLACE project will foster the development of nature-based solutions that:
Allow nature and biodiversity to thrive through the creation of new green areas and the recovery of degraded ecosystems.
Cultivate shared places for dialogue and exchange between urban, peri-urban and rural populations and administrations.
Strengthen connectedness between people in urban settings - both to one another and to their natural environment
Agile co-production process
Creating fit-for-purpose solutions in cities is highly challenging and requires effective cooperation between many different stakeholders.
INTERLACE is using an agile co-production process to develop its tools, approaches and guidance and to increase their relevance and impact. To this end, local knowledge brokers and city partners will jointly oversee the co-production processes in each city and invite further beneficiaries to provide feedback, knowledge and new perspectives. This approach will also accommodate any new demands that emerge during the project - remaining "agile" throughout its four year duration.
Sandra Naumann, INTERLACE project coordinator, says: "Urban areas across the globe are facing challenges such as urban sprawl, climate change and pollution. Through INTERLACE, we will demonstrate that restoring green areas and implementing nature-based solutions can help address shared challenges whilst providing wider benefits for society, the environment and the economy."
Discover more at www.interlace-project.eu