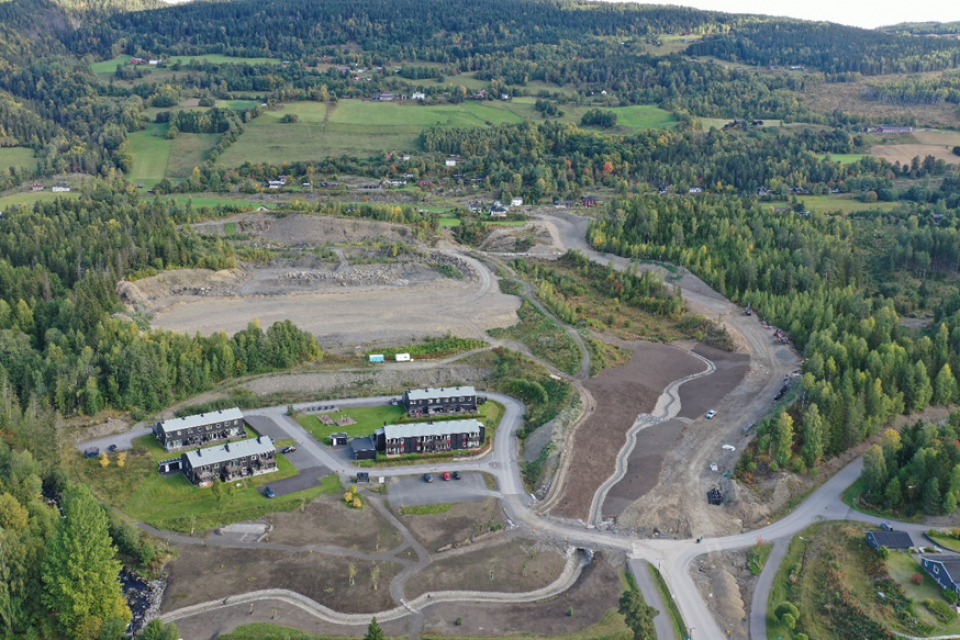 Area characterisation:
Øyer municipality, just north of Lillehammer, Norway, started a development project to establish 220 family housing units for roughly 500 people in an abandoned gravel pit. However, the project was put on hold due to potential flooding problems and a lack of adequate flood protection. Potential problems in the larger river, Søre Brynsåa River, will mainly be handled by traditional measures, whereas NBS are installed in the Trobekken Creek. The Creek has a flooding problem during heavy precipitation. It has been closed in the lower part and led through a pipe that ends in Søre  Brynsåa west of the houses.
Objective:
Flooding problems  during heavy precipitation in the Trobekken Creek may affect  a development project to establish 220 family housing units.
Through the H2020 project PHUSICOS the Trobekken Creek has been opened and re-meandered.  A buffer zone is established around the re-opened creek and is also combined with a sedimentation dam (check dam).
Actions:
The implemented NBS measures include re-opening a former piped section of the creek, and re-meander it in an open solution below the houses. A zone around the re-opened creek is established as a buffer zone with retention capacity during flooding, whereas it will appear as a green recreation area in 'normal' periods. In addition, a check-dam have been constructed, and the slopes of the ravine in which the creek flows have been re-vegetated for erosion protection. Two fenced-in test-fields were established to monitor undisturbed re-growth of the natural flora.
Potential impacts/benefits:
increased sense of safety for the inhabitants along the river.
less potential for damage caused by floods
re-establishment of vegetation
enhance biodiversity
NBS benefits
Developing climate change adaptation; improving risk management and resilience
Reduce flood risk
Restoring ecosystems and their functions
Increase Biodiversity
Improve water quality
Increase awareness of NBS solution & their effectiveness and co benefits
Increase well-being
Transferability of the result:
Provided positive monitoring results and, not the least, the satisfaction of the inhabitants of the area, there are many new developments in the Innlandet county and in Norway as a whole, where these measures can be implemented. Particularly re-opening of creeks is becoming more mainstream in cities, but not so much in rural regions.
NBS classification
Biodiversity
re-opening creek