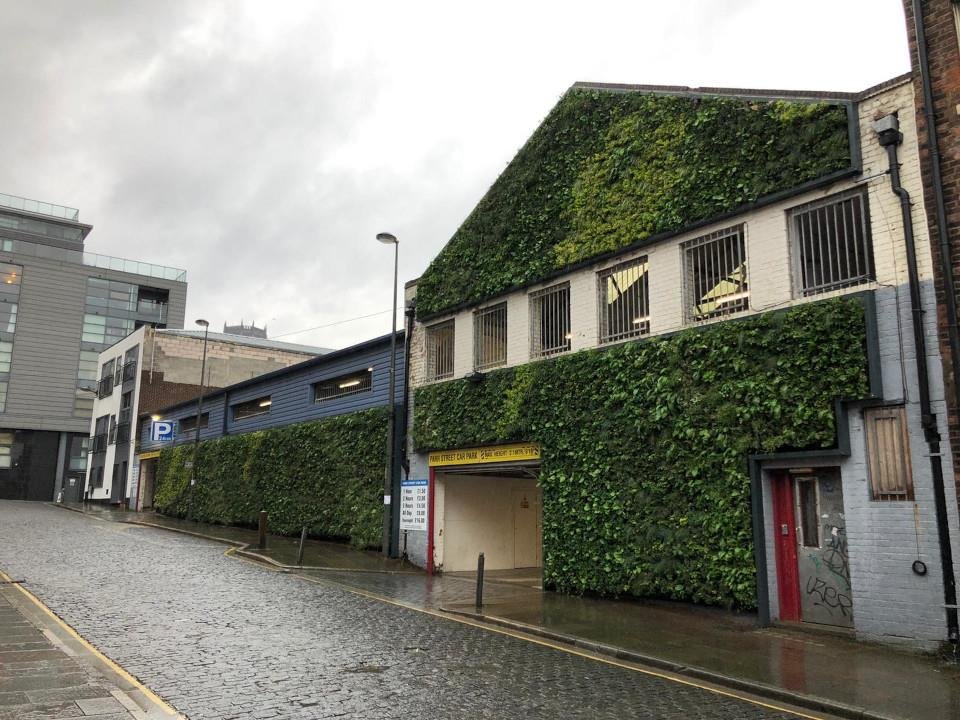 Objective:
Liverpool, as with many major urban areas in the UK and globally, is facing significant challenges in managing its urban form to pursue economic growth agendas, whilst also providing an attractive city for its residents and visitors. Unfortunately, the social, ecological, and economic dimensions of these political mandates are frequently at odds, creating conflicting visions for how urban areas should be being developed and managed. With further densification of urban form, the re-development or conversion of green space into urban land, and a continuing growth spatially of urban footprints we are witnessing an ongoing fragmentation of urban systems. This includes growing problems with the connectivity between people, their places or work, residences and amenities, as well as challenges to the maintenance of supporting, provisioning and regulating ecosystem systems. All of which has a detrimental impact on the ability of urban systems to develop resilience to climatic and socioeconomic change. Liverpool has existing polices (see Section 8) attempting to address employment, health and educational inequality, which have been successful in some areas but not others. One aspect of these programmes which is often overlooked by strategies is how the natural environment can be used to promote greater interactivity with the landscapes around us, encourage investors (and associated jobs) to the city, and make Liverpool an attractive place to live, work and recreate. Urban GreenUP provides an opportunity to demonstrate to key decision makers and the wider public the value of NBS. The long term monitoring and economic evaluation of NBS in the city provides an Urban Learning Laboratory and a chance to showcase NBS. The work is timely in the UK coming at the early stages of the government's 25 Year Plan for the Environment, which sets out how NBS should be incorporated into plans and strategies amongst other initiatives. Urban GreenUP also feeds into the established networks such as the Green Infrastructure Forum, allowing dissemination of findings from the work in Liverpool and sharing of information about the wider work with lead and follower cities across the world. Finally, the aspiration is for Urban GreenUP to help to make a step change in the quantity and quality of green infrastructure that is provided across the city, the wider city region and Mersey Forest.
Actions:
nature based solutions
Re-naturing urbanization

New green routes for pedestrians and cyclists and minor improvements to road junctions.
Planting of shade and cooling trees.
Carbon sequestration through the growth of woody plants, shrubs and trees and water planting interventions

Water interventions

New green routes for pedestrians and cyclists and minor improvements to road junctions.
Planting of shade and cooling trees.
Carbon sequestration through the growth of woody plants, shrubs and trees and water planting interventions

Singular green infrastructure

Solutions to improve soil functionality and enhance biodiversity
Installation of pollinator spaces, walls and roofs
Mobile and floating gardens that increase the green surface of the city
Large urban trees and hedges that act as filters for urban pollutants

Non technical interventions

Public education, involvement and awareness-raising activities
Activities to support the implementation of renaturation processes and green projects developed by citizens.
Potential impacts/benefits:
Renaturing urbanization

Improved accessibility, connectivity, air quality and safety on green routes.
Introduction of shade and cooling trees across multiple city sites, working with a wide range of stakeholders and landowners.
Urban sink sites include a diverse array of aquatic planting (submerged, emergent and peripheral species) with supplementary woodland and pollinator sowings at additional sites.
The Princes Avenue site on the Otterspool corridor was the winner of a 2020 Local City Region Culture Impact Award for Environmental Sustainability.
A number of shade trees in the orchard are fruiting species including less common ones.
The 4.3 km Green Travel Route will make use of both existing green infrastructure and the URBAN GreenUP interventions to establish a route that is as green as possible in the city

Water interventions

Reductions in water flow and volume during periods of wet weather as well as lowering the local flood risk.
Improvements in water quality and local biodiversity.
Improved accessibility to sites for leisure.
New options for educational activities.
Works have permitted promotion of climate change discussions and actions.
As a part of the Urban catchment forestry, Dawn Redwood trees were planted in a series of Silva cells along the central reservation of the Strand. This provides a sustainable urban drainage function for excess highway surface water run-off.
Bird and bat boxes have been installed in trees close to the water retention ponds.

Singular Green Infrastructures

The pollinator roof is complemented by a bug hotel made from a recycled cabinet.
The floating garden is a 63m2 saltwater ecosystem island in the city docks with innovative habitat and biodiversity features. 
The 25m2 freshwater ecosystem was planted with reeds and grasses to attract pollinators and improve water quality
The green wall at Parr Street has a surface of 132m2 and hosts 12,000 plants from 18 species.
The elevated green wall at St Johns has a surface of 200m2 and at 65m long it is one of the longest in the UK.
The 2m high free-standing green wall at Liverpool ONE will improve biodiversity and air quality.

Non-technical interventions

Wide engagement of local residents and partners in a variety of schemes.
Opportunities for direct interaction and co-creation. 
Improved mental health and wellbeing. 
Educational opportunities through Forest Schools 
Increased recorded sightings for the local biological records.
The art habitat sculptures containing seven art pieces link to form a Pilgrimage habitat trail created from everyday materials. They include information plaques with QR codes which link to short community videos. 
Liverpool City was a solid 2nd in the City Nature International challenge for iNaturalist for Observations, Species and Number of people engaging across the city region, a rise from 5th place in 2019.
NBS benefits
Developing climate change adaptation; improving risk management and resilience
Increase Biodiversity
Creation of green jobs relating to construction & maintenance of NBS
Improve air quality
Improve water quality
Increase accessibility to green open spaces
Liverpool is characterised by a variety of architectural styles and is one of the most visited cities in the United Kingdom. In 2008 it was nominated as the annual European Capital of Culture. Liverpool was one of the leading global trade centres at the end of the 19th Century. After suffering for significant population reduction and economic decline in the latter half of the past century, the city started growing again in the mid-1990s. Nowadays, the local economy is based on the service sector industries and it is one of the largest in the United Kingdom.
Liverpool supports numerous initiatives aiming to develop and implement green infrastructures and renaturing urban plans. In this spirit, the city will join URBAN GreenUP by following the "Liverpool City Green Infrastructure Strategy". The goal is to tackle specific urban problems, such as poor connectivity for pedestrians and cyclists between different parts of the city, to improve the city centre environment, to reduce flooding and to improve biodiversity.
Climate mitigation and adaptation;
Water management;
Coastal resilience;
Green space management (including enhancing/conserving urban biodiversity);
Air/ambient quality;
Urban regeneration;
Participatory planning and governance;
Social justice and social cohesion;
Public health and well-being;
Potential for new economic opportunities and green jobs.
Challenge 1: Climate Mitigation & Adaptation Monitoring Procedure

Biophysical KPIs:

Total amount of carbon stored in vegetation 
Temperature data to underpin temperature-based KPIs    
Heatwave risk
Projected maximum surface temperature reduction
Increased opportunity for species movement in response to climate

Socio- Economic KPIs:

Economic value of carbon sequestration by vegetation

Challenge 2: Water Management Monitoring Procedures

Biophysical KPIs:

Run-off coefficient in relation to precipitation quantities
Nutrient abatement; abatement of pollutants (nutrient load/heavy metals)

Socio- Economic KPIs:

Economic benefit of reduction of storm water treated in public sewerage system

Challenge 4: Green Space Management Monitoring Procedures

Biophysical KPIs:

Increased connectivity to existing GI
Ecological surveys underlying biodiversity analysis
Pollinator species increase
Increase in density and seasonal spread of floral resources for pollinators
Increase in plant species richness and functional diversity
Increase in insectivore (e.g. bat) abundance and use of corridors for movement

Socio- Economic KPIs:

Distribution of public green space – total surface or per capita
Accessibility of urban green spaces for population

Challenge 5: Air Quality Monitoring Procedures

Biophysical KPIs

Annual mean levels of fine particulate matter (e.g. PH2.5 and PM10) in cities
Trends in levels of NOx, SOx

Socio- Economic KPIs:

Value of air Quality improvements

Challenge 6: Urban Regeneration Monitoring Procedures

Socio- Economic KPIs:

Accessibility: distribution, configuration, and diversity of green space.
Savings in energy use (kWh) due to improved GI
Assessment of typology, functionality and benefits provided and Diversity of NBS

Challenge 7: Participatory Planning And Governance

Socio- Economic KPIs:

Perceptions of citizens on urban nature and green spaces quality
Social learning concerning NBS
Engagement with NBS (sites/projects)

Challenge 8: Social Justice And Social Cohesion
Challenge 9: Public Health And Well-Being Monitoring Procedures

Socio- Economic KPIs:

Perceptions of health and quality of life
Increase in walking and cycling in and around areas of interventions

Challenge 10: Potential Of Economic Opportunities And Green Jobs Monitoring Procedures.

Socio- Economic KPIs:

Number of jobs created; gross value added and increased footfall and spend in the areas of interventions
Changes in mean house prices/rental markets
Increased returns of business rates with NBS
Contacts:
Project Coordinator

CARTIF Technology Centre
Raúl Sánchez

Communication secretariat

Fondazione ICONS
Alice De Ferrari