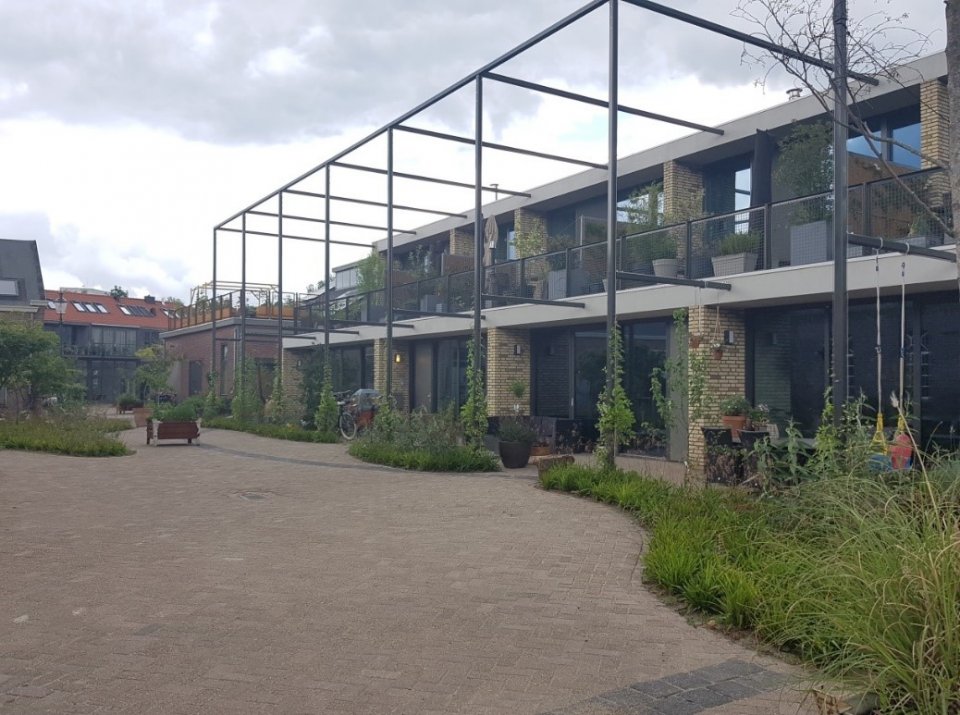 Area characterisation:
The Nutsbedrijven Regio Eindhoven (NRE) terrain is an old industrial area in which the old buildings have been declared to be monuments. People who live and will live in this area form a community that wants to transform it into a green and liveable area. A large green façade has been implemented together with new green spaces including trees, perennials and grasses. In addition, some special elements have been implemented such as large water barrels, worm hotels and pergolas. 
Objective:
The community at Nutsbedrijven Regio Eindhoven aimed at rehabilitating the old industrial area to a livable urban space. This initiative served as a participatory planning and governance, and social capacity building action as citizens were driving the development of the area and NBS implementation.
Potential impacts/benefits:
Green façades and green spaces in Nutsbedrijven Regio Eindhoven area contributed to 14% increase in species diversity after NBS implementation as compared to two control sites. The primary benefit is the community engagement and development of the sense of the ownership.
NBS benefits
Reducing temperature at meso or micro scale
Carbon sequestration and storage
More energy efficient buildings
Improve connectivity and functionality of green and blue infrastructures
Increase Biodiversity
Changing image of the urban environment
Increase amount of green open spaces for residents
Increase communities' sense of ownership
Increase social interaction
Increase well-being
Social inclusion
Transferability of the result:
The actions and NBS implemented in Nutsbedrijven Regio Eindhoven area can be replicated in other areas.
Lessons learned:
Green roofs and façades comprised one of the most demanding NBS to implement, so they must be subject to a more thorough planning and realisation, and cooperation between green and construction sectors. Green façades, pergolas and green roofs require regular maintenance. An important question during green façade, pergola and green roof implementation included determining who is responsible for the maintenance.
NBS classification
Community Garden
Urban green space
Green facade