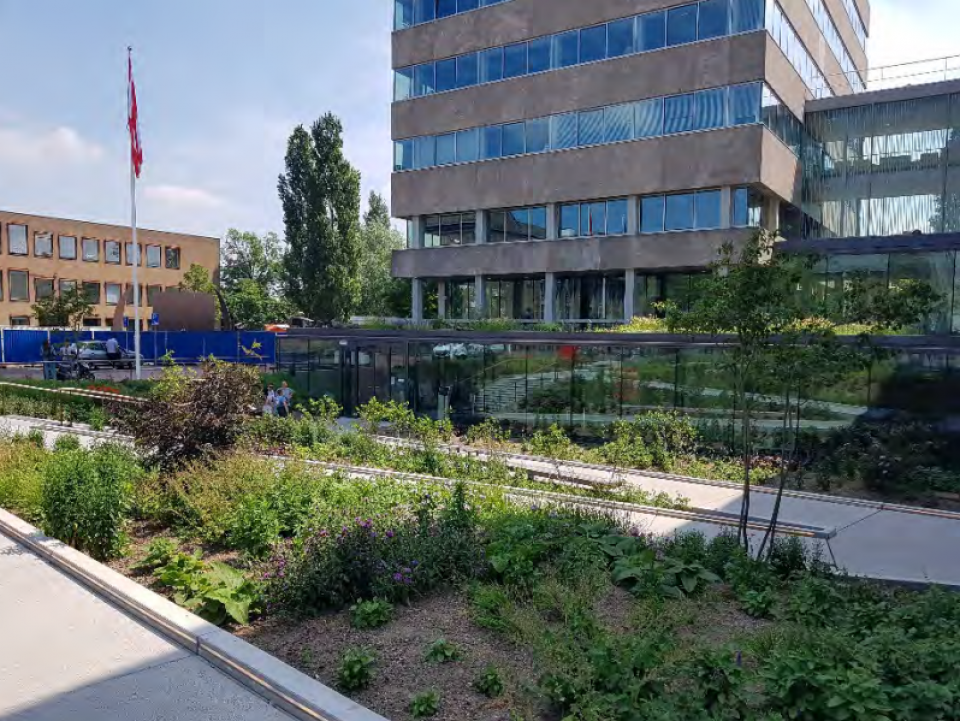 Area characterisation:
The area of the City Hall facing the Dommel river has been revamped to include more natural and green elements, in order to make the environment more attractive and to enhance biodiversity. The improvements have been designed to fit and connect to the ecological function of the Dommel river area. A green terrace with trees, perennials and grasses (e.g., Alnus glutinosa, Alnus incana Aurea, Betula pubescens, Salix Alba, Filipendula ulmaria, Typha angustifolia, Iris pseudacorus) has been implemented and native plant species have been planted along the Dommel river. A green roof of approximately 110m2 has also been built on top of the entrance of the City Hall. 
Objective:
Eindhoven is facing rapid population growth. Critical issues for the city, which are exacerbated by climate change, include flooding, urban heat stress, air pollution, and lower quality of life. The rapid urbanisation in recent years has also led to the disappearance of significant blue zones, which has had detrimental consequences to the urban environment and quality of life. The renewed City Hall area features a green roof and a green terrace.
Potential impacts/benefits:
Green roof and green terrace near the City Hall contributed modestly to the reduction of urban heat (maximum 4% reduction). However, these NBS contributed to 16% increase in species diversity featuring 74% of native plant species after NBS implementation as compared to two control sites.
NBS benefits
Reduce run-off
Reducing temperature at meso or micro scale
Improve connectivity and functionality of green and blue infrastructures
Increase Biodiversity
Increase quality and quantity of green and blue infrastructures
Changing image of the urban environment
Increase accessibility to green open spaces
Increase amount of green open spaces for residents
Provision of health benefits
Transferability of the result:
In certain cases, green façades and green roofs require extra considerations for their implementation. The implementation of green roofs, particularity on existing buildings, was not straightforward for several reasons, including the bearing capacity of the existing buildings, which may not be constructed to carry the additional load of a green roof. Native vegetation or other vegetation suitable for the application might be considered.
Lessons learned:
Private actors can be integrated into NBS financing, but it requires more careful planning and discussion among parties. Establishing joint initiatives (e.g., Communities of Practice or through other collaborative NBS effort) aid in overcoming reluctance to accepting NBS and establishing cohesion. Green roofs and façades comprised one of the most demanding NBS to implement, so they must be subject to a more thorough planning and realisation, and cooperation between green and construction sectors
NBS classification
Green roofs
Urban green space