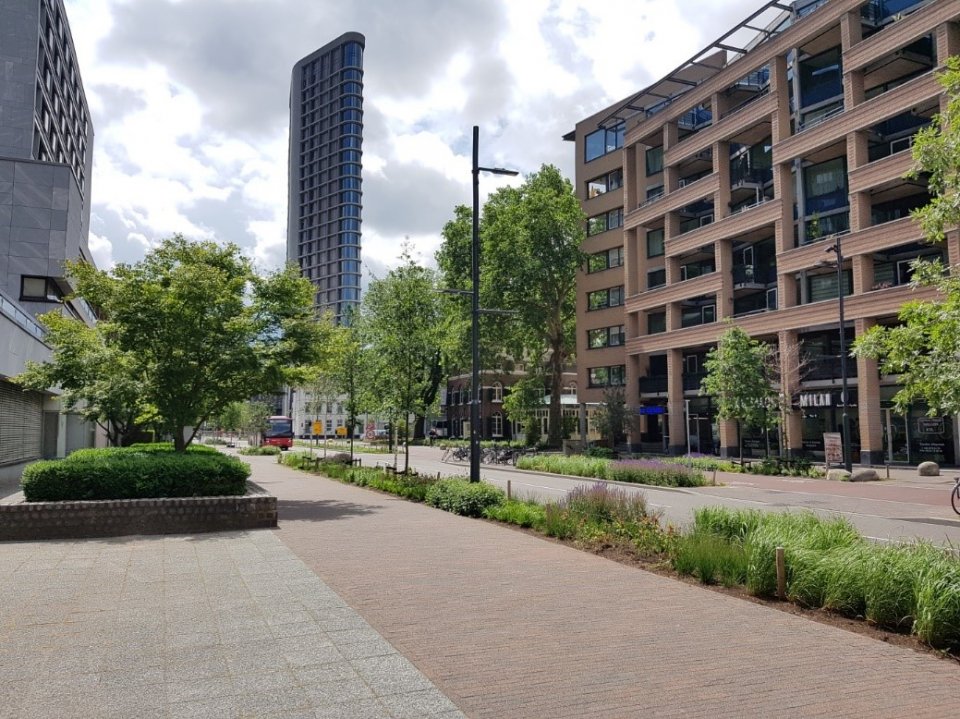 Area characterisation:
The reconstructed Vestdijk now only has one lane left for cars and one for buses. The desired traffic reduction has therefore been achieved and the air quality in the area has improved. The remaining space of the boulevard is now available for pedestrians and cyclists to use, and parts of it has also been transformed into green spaces. The trees and plants in the new green spaces have been selected to enhance the attractiveness of and the biodiversity in the area. A climate-adaptive water storage system has also been installed to tackle the flooding problem on the Vestdijk and in its immediate surroundings. Furthermore, the soil quality has been improved for the plants and to increase the infiltration capacity. The introduction of more green spaces on the boulevard and less pavement has also reduced the heat stress problem in the area.
Objective:
Vestdijk has been transformed from a busy grey street mostly used by cars into an urban boulevard - creating more space for pedestrians and cyclists, targeting urban heat and air quality. The street now features more green areas such as street trees, rain gardens, and green strips with perennials and mixed grasses.
Potential impacts/benefits:
NBS in Vestdijk decreased the physiological equivalent temperature (PET) at maximum by 24% relative to the reference measurements as well as decreased the temperature of the surrounding environment and buildings which was evaluated with thermal cameras outputs. Rain gardens demonstrated one of the highest infiltration capacities among the NBS in Eindhoven as the soil media ensures high water permeability. Vestdijk contributed to 14% increase in species diversity after NBS implementation as compared to two control sites.
NBS benefits
Flood peak reduction
Increasing infiltration
Reducing temperature at meso or micro scale
Carbon sequestration and storage
Increase Biodiversity
Changing image of the urban environment
Improve air quality
Increase stakeholder awareness & knowledge about NBS
Transferability of the result:
The Vestdijk road is located near the shopping area in the city centre of Eindhoven. The accessibility of the city centre by car was therefore an important issue for shop owners in the planning process, and many other stakeholders also had opinions on the elements that should be included in the new design of the road. Numerous parties were involved in the co-creation process, and the new design for the Vestdijk was created together and in consultation with the local stakeholders. In Eindhoven, the design has already been extended to other streets with necessary adjustments.
Lessons learned:
Private actors can be integrated into NBS financing, but it requires more careful planning and discussion among parties. Establishing joint initiatives (e.g., Communities of Practice or through other collaborative NBS effort) aid in overcoming reluctance to accepting NBS and establishing cohesion.
NBS classification
Street trees
Rain/infiltration gardens