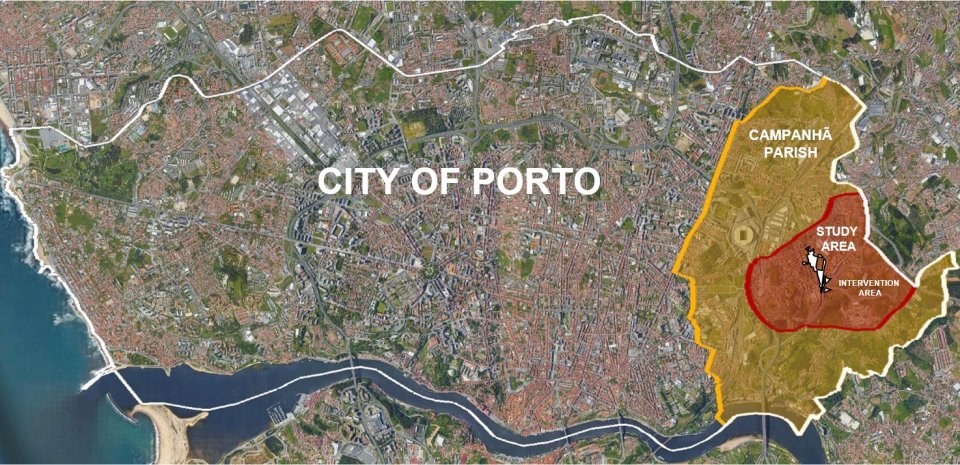 Area characterisation:
In Porto city, Campanhã parish was identified as one of the priority areas for urban regeneration aiming at a more sustainable improvement of local living conditions. This area faces severe socio-economic challenges territorial aggravated by isolation, due to lack of accessibility, safety, feeling of security and poor overall conditions of the urban space. Despite these challenges, this area is especially rich in green areas and vacant lots that represent unique opportunities for urban regeneration to tackle the identified issues, especially through the use of multifunctional nature-based solutions (NBS). The potential for improvement in this area is fairly recognized by the number of strategic investments that the Municipality of Porto is planning for the area. Within Campanhã parish, URBiNAT project was able to define a specific study area to develop an extensive analysis of the territory and dialogue with local actors, aligned with the identification of available public areas that could be used for the implementation of NBSs. During this co-diagnostic phase, different but complementary methodologies were used to acquire the needed information.
Objective:
The outline of a study area was developed by the Local Taskforce of Porto, according to the previously established commitment by the municipality of Porto to develop the project URBiNAT in this area. The first criteria were to ensure the inclusion of Cerco, Falcão, Lagarteiro, and other social housing neighbourhoods nearby.
Given the intention of implementing new healthy corridors, the study area includes the most relevant strategic green spaces (Oriental Park, Corujeira Plaza, Quinta da Bonjóia, municipal nursery), services (schools, industry, health centres, local associations) and also future projects that will soon take place in Campanhã, (Expansion of Oriental Park, New Matadouro, Monte da Bela). The design of the Healthy Corridor should articulate as many existing strategic areas as possible, in order to be inclusive, reach more users and suppress local fragmentation and disconnections.
NBS benefits
Developing climate change adaptation; improving risk management and resilience
Reduce drought risk
Reducing temperature at meso or micro scale
Developing climate change mitigation
Carbon sequestration and storage
Reduction of energy in the production of new buildings and building materials
Improve connectivity and functionality of green and blue infrastructures
Increase Biodiversity
Enhancing sustainable urbanisation
Changing image of the urban environment
Increase awareness of NBS solution & their effectiveness and co benefits
Increase social interaction
Increase stakeholder awareness & knowledge about NBS
Increase well-being
Provision of health benefits
Social learning about location & importance of NBS