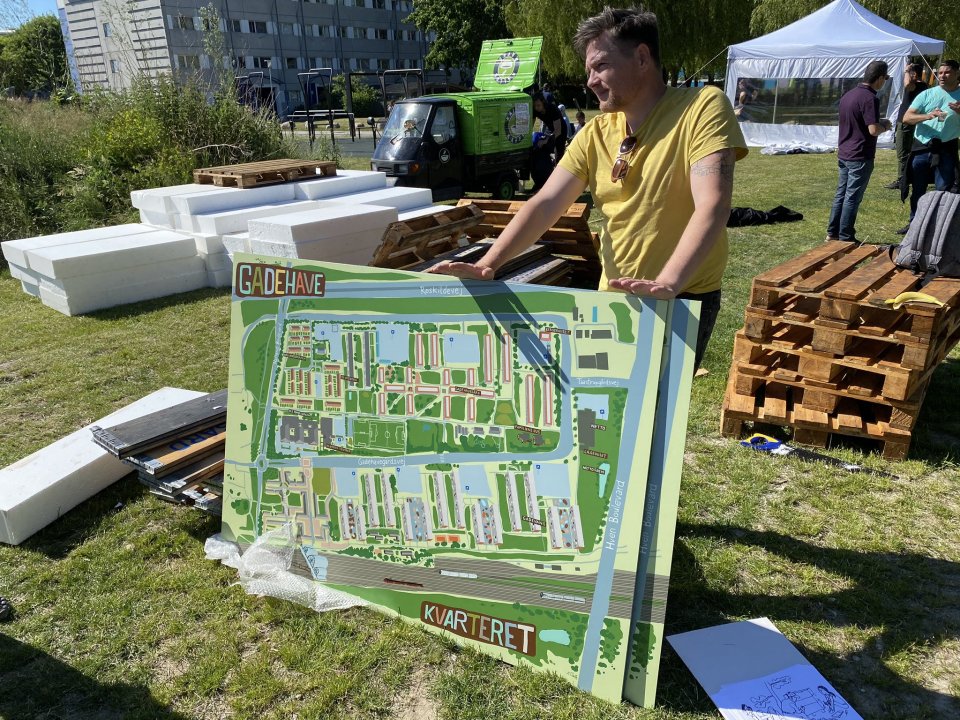 Area characterisation:
Høje-Taastrup is a municipality situated on the western outskirts of Greater Copenhagen. It has around 50.000 inhabitants and has multiple centers spread along the main railway line connecting Copenhagen with the rest of Denmark. Modern day Høje-Taastrup came into existence as part of the realization of the 1947 "Finger Plan", which envisioned railways stretching outwards from central Copenhagen, establishing the current urban sprawl surrounding the capital. 
What sets Høje-Taastrup apart from its neighbors is that it was designed to be the region's main transportation hub in the 1950's. Over a short period of time, the once rural municipality became a focal point for modernist urban planning. Today, 26 % of the population lives in social housing, and 13 % in severely deprived neighborhoods. Focusing on the creation of a more balanced city, the municipality is currently developing the severely deprived neighborhoods under a common plan with the goal of breaking down the social and physical barriers that isolate them from the surrounding city.
Objective:
Høje-Taastrup Municipality is a follower city in the URBiNAT project. The municipality is  sharing its urban regeneration experiences with other cities as well as learning best practices that will reinforce the implementation of the ongoing plans. Within URBiNAT Høje-Taastrup wish to explore the likely facilities to be developed and sustained on the ground where a new Community House is to be built, a passage between the Gregersens Quarter and the station and the linkages to a park which will be developed in the coming years during the refurbishments of the area (see photo). The Municipality has a rich tradition of working with inclusive citizens groups, housing associations and public-private partnerships. This tradition will be carried on in the work of transforming the three new areas in Gregersen, along with applying new methods and knowledge about working with nature based solutions. The outcome Høje-Taastrup municipality expects from the URBiNAT project is to improve living conditions through solutions that can provide a feeling of community and safety, and at the same time enable a green and healthy lifestyle.  
Actions:
The URBiNAT project in Høje Taastrup municipality, has been showcasing the possibilities for advancing the urban planning process around Gregersen. The area is currently categorised as a Danish 'ghetto' or a deprived neighbourhood, as specified by the Danish Government. Gregersen has around 5.500 inhabitants (adults and children) of which 2.150 live in rented dwellings and the rest in private owned dwellings. The neighbourhood is physically isolated from the rest of the city by large infrastructures such as highways and railway tracks. As a result, the residents in this community are cut off from other communities (see Plan 2). The neighbourhood is divided internally by large infrastructures which prevents the residents from interacting, making it harder to establish a positive dialogue between neighbouring neighbourhoods. The municipality developed plans to undertake urban structural changes with the aim of creating a more permanent, social, functional, and physical change in this deprived area. These changes included: 
Current Rejuvenation Project and Resident's participation
Green Corridor
Living Lab and URBiNAT
Collaboration – Danish Project Partners and Municipality
Potential impacts/benefits:
Co-Creation of a Healthy Corridor for the city of Høje -Taastrup
NBS benefits
Developing climate change adaptation; improving risk management and resilience
Flood peak reduction
Increase infiltration / Water storage
Developing climate change mitigation
More energy efficient buildings
Reduction of energy in the production of new buildings and building materials
Greater ecological connectivity across urban regenerated sites
Improve connectivity and functionality of green and blue infrastructures
Enhancing sustainable urbanisation
Changing image of the urban environment
Creation of green jobs relating to construction & maintenance of NBS
Increase accessibility to green open spaces
Increase amount of green open spaces for residents
Increase awareness of NBS solution & their effectiveness and co benefits
Increase communities' sense of ownership
Increase social interaction
Social inclusion
Social learning about location & importance of NBS
Sustainable Development Goals
3. Good Health and Well-being
6. Clean Water and Sanitation
9. Industry, Innovation, and Infrastructure
11. Sustainable Cities and Communities
17. Partnerships for the Goals