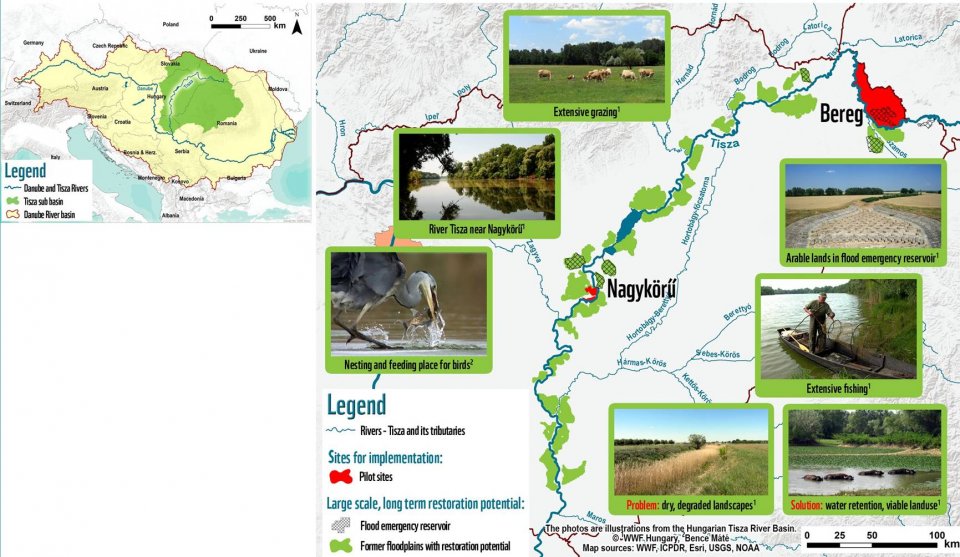 Area characterisation:
The Tisza basin is the largest sub-basin in the Danube River Basin. The Tisza was strongly regulated, floodplains were cut off from the river in the 19–20th centuries. Landscapes are dominated by intensive arable farming and draining the waters dries the landscapes.
Affected areas: Pilot Site A approx. 300 ha, Pilot Site B approx. 1,500 ha, Pilot Site C approx. 38,000 ha (27 municipalities, mostly belonging to the Vásárosnamény district by the river Tisza)
Objective:
Implementing floodplain farming systems in multiple sites along the Tisza River, thereby making land use more sustainable and in line with nature conservation efforts.
Actions:
Planning and implementing a floodplain farming system in the floodway of river Tisza near Nagykörü based on water retention in former wetlands, and restoring habitats (Pilot Site A)
A local farmer irrigation community will be established at another site, in the floodway fringe of the Tisza to create the infrastructure for providing water for farming and habitat restoration, reconnecting former floodplains to the river (Pilot Site B)
A regular inundation regime within the Bereg Flood Risk Reduction Reservoir System (Plot Site C) will be established, reconnecting the floodplain and enhancing biodiversity, while at the same time leading to a transition of land use by introducing floodplain farming
Potential impacts/benefits:
floodway used for drought risk reduction, preventing drying of habitats
floodplain restoration / reconnection
ecological status restoration
enhancing biodiversity
wetland reconversion
enhance recreation potential for eco-tourism
NBS benefits
Developing climate change adaptation; improving risk management and resilience
Flood peak reduction
Reduce drought risk
Reduce flood risk
Reduce run-off
Carbon sequestration and storage
Restoring ecosystems and their functions
Improve connectivity and functionality of green and blue infrastructures
Increase achievements of biodiversity targets
Improve water quality
Increase awareness of NBS solution & their effectiveness and co benefits
Increase communities' sense of ownership
Increase stakeholder awareness & knowledge about NBS
Sustainable Development Goals
1. No Poverty
6. Clean Water and Sanitation
7. Affordable and Clean Energy
8. Decent Work and Economic Growth
12. Responsible Consumption and Production
13. Climate Action
14. Life Below Water
15. Life On Land