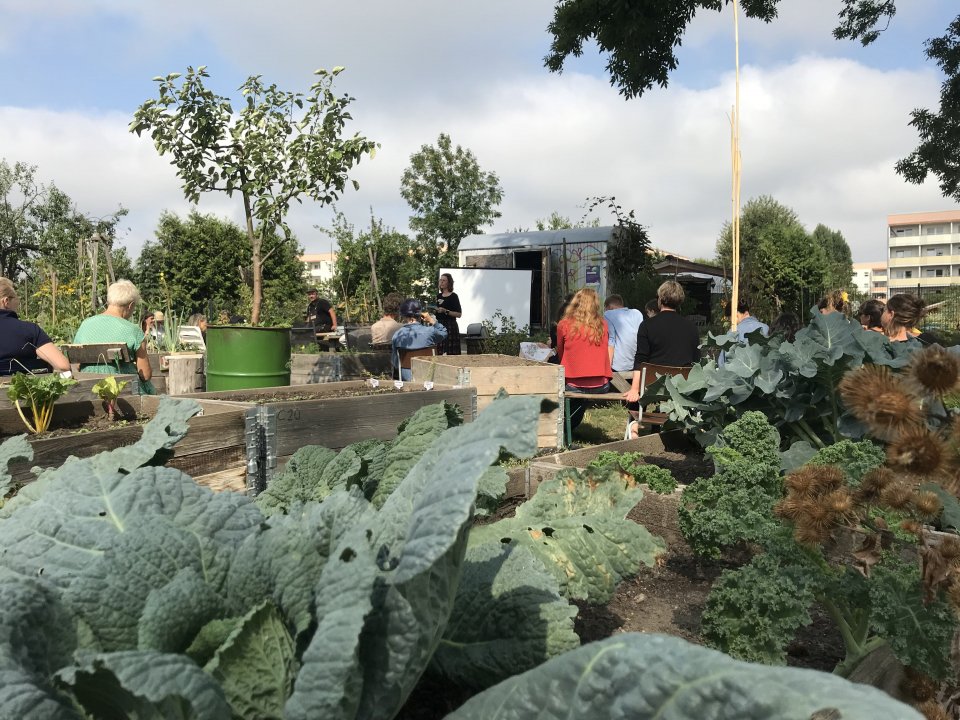 Area characterisation:
The space is located in an area undergoing rapid and intense development. 1.500 new apartments are being built in this area and the neighbouring historical Hellersdorf estate is also under development - the historic garden is being regenerated, while the rest is being converted into a commercial area with shops and restaurants.
Objective:
Explore how to best maintain existing areas of edible urban greenery - and integrate new ones - into the area, as well as how these green spaces can be used to connect the existing neighbours with the new ones by providing spaces for community gardening, togetherness and knowledge exchange.
Actions:
Integrate edible landscaping into the ongoing development of the area in Berlin Hellersdorf. Working together with a landscape architect and the housing company developing both the new apartment buildings and the historical estate area, the local Edible Cities Network City Team has succeeded in pushing for ancient fruit tree varieties to be planted in the historical Hellersdorf estate area. A pruning course has also been carried out together with the gardeners that are active in the community garden.
NBS benefits
Developing climate change adaptation; improving risk management and resilience
Developing climate change mitigation
More energy efficient buildings
Restoring ecosystems and their functions
Greater ecological connectivity across urban regenerated sites
Improve connectivity and functionality of green and blue infrastructures
Increase achievements of biodiversity targets
Increase Biodiversity
Increase quality and quantity of green and blue infrastructures
Increased cultural richness and biodiversity
Enhancing sustainable urbanisation
Changing image of the urban environment
Creation of green jobs relating to construction & maintenance of NBS
Improve air quality
Increase accessibility to green open spaces
Increase amount of green open spaces for residents
Increase communities' sense of ownership
Increase population & infrastructures protected by NBS
Increase social interaction
Increase stakeholder awareness & knowledge about NBS
Increase well-being
Provision of health benefits
Social inclusion
Sustainable Development Goals
3. Good Health and Well-being
5. Gender Equality
9. Industry, Innovation, and Infrastructure
10. Reducing Inequality
11. Sustainable Cities and Communities
13. Climate Action