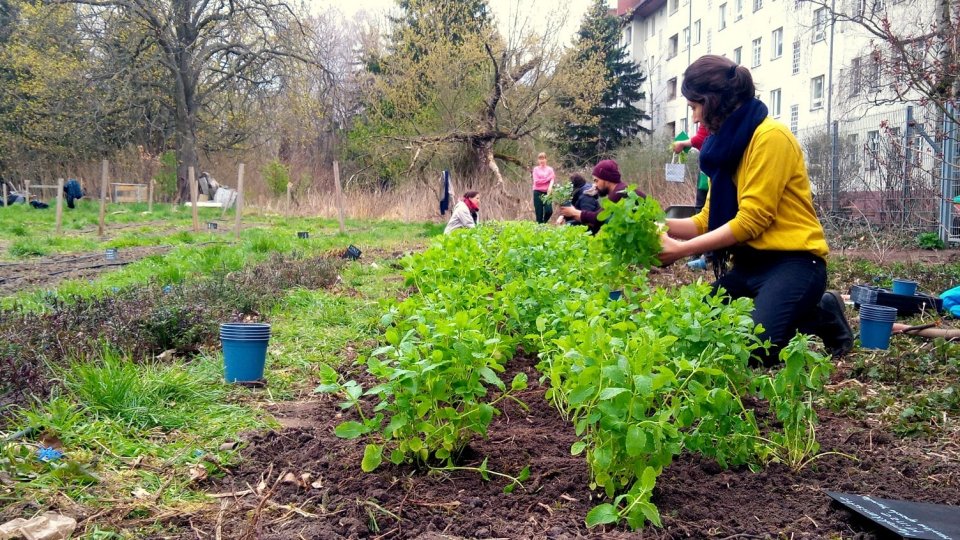 Area characterisation:
The Living Lab in Neukölln is located in and around the New St. Jacobi Cemetery. While many graves are still visited by family and friends of the buried, the cemetery is, like many in Germany, now no longer used as a burial site, and the cemetery association that owns it is exploring possible new uses for the land that keep the space green, well maintained and economically viable.
Neukölln has seen a rapid transformation over the last ten years, gaining a reputation as a creative area. This has led to an increasing number of people moving to the neighbourhood, increasing residential developments and rising rent prices. The Living Lab has grown as a meeting place for locals, aiming to accommodate those newer to the neighbourhood alongside longer-term residents.
Objective:
Exploring how to successfully integrate a community garden into a cemetery, thereby regenerating underused green space in a city and introducing multifunctional uses.
Actions:
Integrating a community garden, café and shop into the cemetery and turned it into a multifunctional space
Free guided tours of the garden every week and information signs in the garden about the future development of the cemetery
Action days to involve the local community
Events center for free workshops and events
Product development
Potential impacts/benefits:
Involve residents in shaping their city
Create a space of inclusive opportunities
Provide a good practice example of environmentally friendly smart urban densification
Create a new green community hub
Adapt existing urban spaces to current social and environmental needs
NBS benefits
Developing climate change adaptation; improving risk management and resilience
Developing climate change mitigation
Restoring ecosystems and their functions
Greater ecological connectivity across urban regenerated sites
Increase Biodiversity
Increased cultural richness and biodiversity
Enhancing sustainable urbanisation
Changing image of the urban environment
Creation of green jobs relating to construction & maintenance of NBS
Improve air quality
Increase accessibility to green open spaces
Increase amount of green open spaces for residents
Increase awareness of NBS solution & their effectiveness and co benefits
Increase communities' sense of ownership
Increase social interaction
Increase stakeholder awareness & knowledge about NBS
Increase well-being
Provision of health benefits
Social inclusion
Social learning about location & importance of NBS
Sustainable Development Goals
3. Good Health and Well-being
4. Quality Education
5. Gender Equality
10. Reducing Inequality
11. Sustainable Cities and Communities
12. Responsible Consumption and Production
13. Climate Action