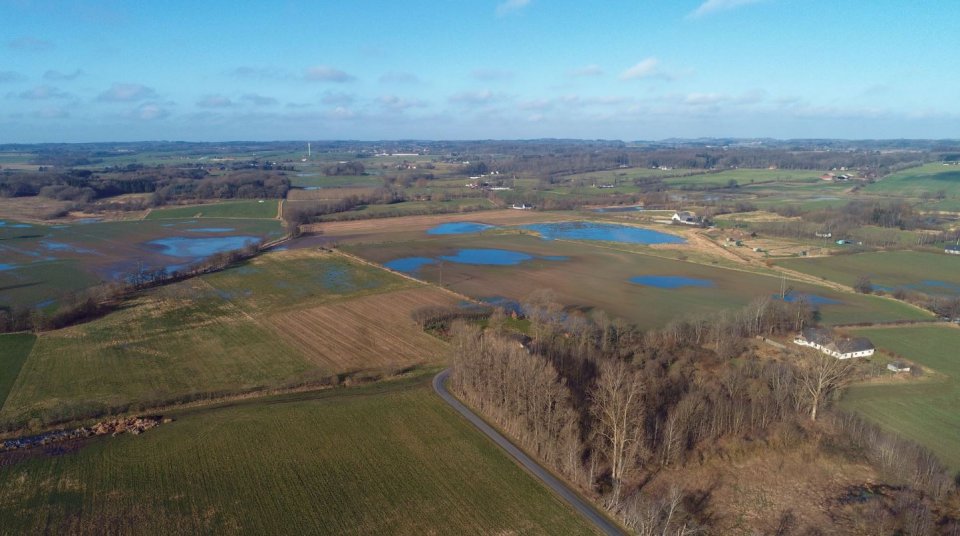 Objective:
The pilot project's goals are, among other things, to develop a strategic comprehensive plan for Holmehave in Assens municipality in Denmark and use multifunctional land distribution for the establishment of afforestation, nature and wetlands. The Nordic Council of Ministers Nature-based Solutions programme has allocated DKK 890,000 for the project.
Assens municipality, VandCenter Syd and Hedeselskabet in Denmark have begun to create a comprehensive plan for the Holmehaven area in Assens municipality. In the project, the aim is to take out approx. 300 hectares for new forest and nature on areas that are currently cultivated as agricultural land and establish a new wetland of 150 ha. The forest and the natural areas must contribute to the protection of groundwater and an improved water environment and increase biodiversity. At the same time, afforestation helps to reduce greenhouse gases, partly because the soil will no longer emit CO2 when it is not cultivated, and partly because the trees in the new forest will bind CO2 from the air.
Also, a wetland area of ​​150 ha will be created near the forest and natural areas. The wetland must help to protect the groundwater and improve the water environment by retaining nitrogen, which is otherwise normally discharged into the watercourses and the sea. The wetland is established by taking agricultural land out of use and allowing the areas to become wet e.g. by interrupting the drain. Some of the areas within the wetlands are also low-lying areas. By wetting and removing these areas from agricultural operation, greenhouse gas emissions are slowed down and CO2 can be stored in the soil instead. The wetland will also help to reduce the risk of flooding of low-lying areas in the area around the project, because the water is parked in the wetland.
The forest, natural areas and wetlands will also have a positive effect on nature and biodiversity, because vulnerable animals and plants thrive when the areas are no longer cultivated.
Another element of the project is to improve outdoor life for locals in the area. The plan is to establish continuous path systems, connections to existing and rail cycle paths, establish new lookout towers and shelter sites, etc.
Through the distribution of land the aim is to be able to obtain more land for the organic farms. The project must also contribute to improving the zoning of agricultural properties in general in the area by e.g. to gather production areas in larger rational blocks or in locations that provide better value for the farm. The Nordic Council of Ministers' project Nature-based solutions in the Nordics has chosen to finance the project with DKK 890,000.
Potential impacts/benefits:
Improve water environment
Increase biodiversity
Afforestation
Reduce CO2
Retain nitrogen
Reduce the risk of flooding
Improve outdoor life in the area
Improve the zoning of agricultural properties
NBS benefits
Reduce drought risk
Carbon sequestration and storage
Increase achievements of biodiversity targets
Increase Biodiversity
Improve water quality
Increase well-being
Sustainable Development Goals
2. Zero Hunger
3. Good Health and Well-being
6. Clean Water and Sanitation
14. Life Below Water
15. Life On Land