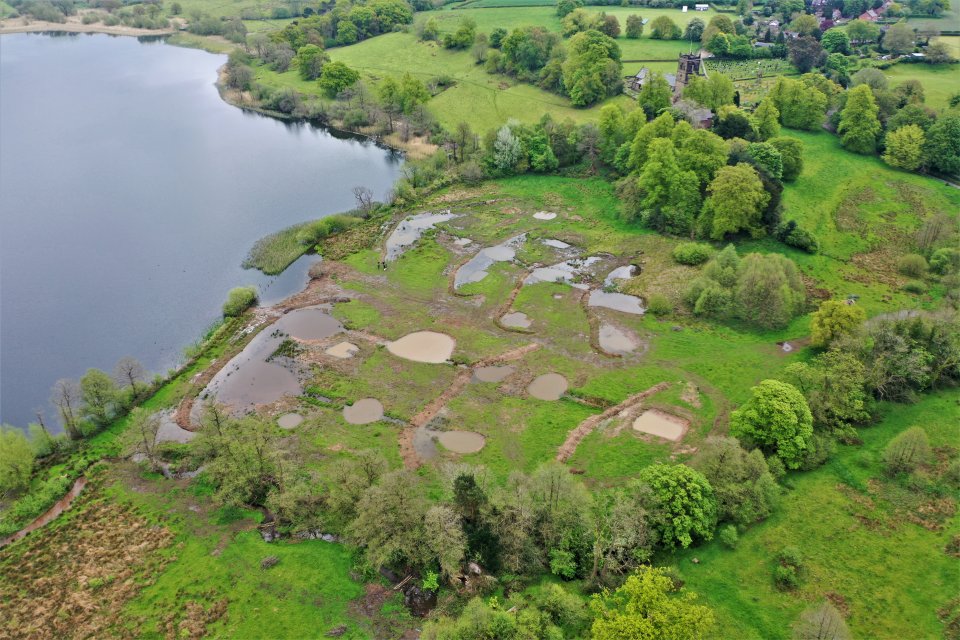 Area characterisation:
Rostherne Mere is the largest and deepest of the Cheshire Meres, covering an area of 48 hectares and a depth of 30 metres. It is designated as a National Nature Reserve, Site of Special Scientific Interest and Ramsar wetland site of international importance. The mere and surrounding land, which primarily consists of woodland and farmland, support a range of species throughout the year and provide refuge during harsher winter months, as it is the last freshwater site in the area to freeze over. Although naturally a eutrophic lake, a legacy of wastewater discharges and continued pressures from agricultural run-off has led to elevated nutrient levels, thus reducing the water quality and threatening  wildlife inhabiting the area.
Objective:
This project aimed to utilise nature-based solutions to restore wetland habitat at Rostherne Mere, delivering water quality improvements via reduced nutrient loads entering the mere, alongside wider environmental benefits through a habitat that can support a range of species and ecosystem services
Actions:
Potential natural capital benefits at Rostherne Mere were mapped and a site management restoration plan was produced, allowing specific areas to be identified where nature-based solutions could be implemented to mitigate diffuse water pollution inputs and deliver multiple ecosystem benefits. Ecosystem restoration took place along the bank of Rostherne Mere and next to the main river inflow (Rostherne Brook) in a field previously used for grazing livestock and where the surrounding land is predominantly used for agricultural practices, resulting in high concentrations of nutrients being present in surface run-off. Restoration involved digging a series of ponds of varying sizes to hold water, with excess soil used to build horseshoe bunds around each one, increasing the maximum water volume each pond could hold and slowing the flow of water as it runs off the land into the mere. Additionally, multiple leaky dams were installed along Rostherne Brook and a willow woven fence was erected along the bank of Rostherne Mere, helping to further slow the flow of water and direct water through the ponds during periods of heavy precipitation and high flow. By slowing and storing water before it enters the mere, these features allow sediment to settle out and give vegetation a greater opportunity to remove nutrients, thus improving the quality of water entering Rostherne Mere. Following the creation of this wetland site, a second site was created alongside a secondary inflow into Rostherne Mere that has high nutrient loadings due to inputs from arable fields outside the reserve. This followed a similar method of restoration as at the first site, utilising creation of ponds surrounded by bunds as well as leaky dams along the inflow. Once the described restoration work had been completed, wetlands were left to be naturally colonised, resulting in an increase in both species abundance and diversity in the Rostherne Mere area. Both wetland sites are currently being monitored to identify and evidence the full range of benefits for water and the surrounding environment that these interventions deliver. 
Potential impacts/benefits:
Pond creation, leaky dams and willow woven fences improve the quality of water before it enters the mere by storing and slowing the flow of water, thus allowing pollutants to be filtered out of water via natural processes.
Wetland creation helps to mitigate climate change via carbon storage.
Wetland restoration has led to significant improvements in biodiversity by providing suitable habitat for a greater range of species, increasing the diversity and abundance of wildlife the site can support.
Restoration work is expected to make the site more resilient to the current and futures impacts of climate change, thus allowing the site to support the broader network of habitats in the surrounding landscape.
NBS benefits
Restoring ecosystems and their functions
Increase Biodiversity
Improve water quality
Financing:
This work  was funded through the EU LIFE project Natural Course and, with additional funding provided through Natural England's National Nature Reserve uplift budget.
NBS classification
Biodiversity
blue infrastructure